Welcome to Finca La Libélula ("Dragonfly"): Organic Farm and Homestead Retreat Near the Beach
This one-of-a-kind 37 acre (14.9-hectares) paradise offers the opportunity to indulge in organic and regenerative farming practices. The property boasts an ideal location with only a 12 minute drive to stunning sand beaches and warm Pacific Ocean waters.
Experience the joy of rural living without compromising modern conveniences (such as comfortable living quarters and fiber optic internet).
The property features two charming casitas, a large storage facility, roadside farm stand, livestock enclosures, chicken coop, and duck pond in addition to over 29 acres of cultivated farmland planted with coffee and a wide variety of tropical fruit trees.
This farm has everything you need to grow any cash crops that you desire and has excellent potential as an eco-retreat or agro-tourism operation. 
Main Casita:
The main house (1 bedroom/1 full ensuite bath) is situated in the heart of the coffee plantation and overlooks the duck pond. It features beautiful, custom hand-crafted hardwood furniture, doors, and cabinetry throughout.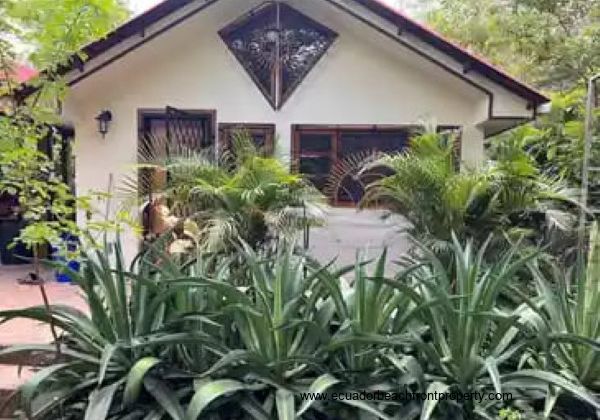 The main bedroom has comfortable furnishings including a desk for providing a functional workspace. The bathroom is spacious and has a walk-in shower, ample cupboards and drawers, and a large linen closet.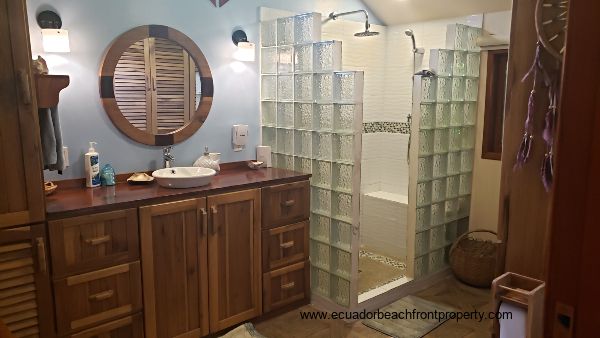 The comfortable living area is furnished with a pair of recliners, TV, and has custom window coverings,  AC, and an overhead fan.
The fully equipped kitchen has plenty of drawer space, and includes a fridge, 2 burner induction cooktop, and microwave oven.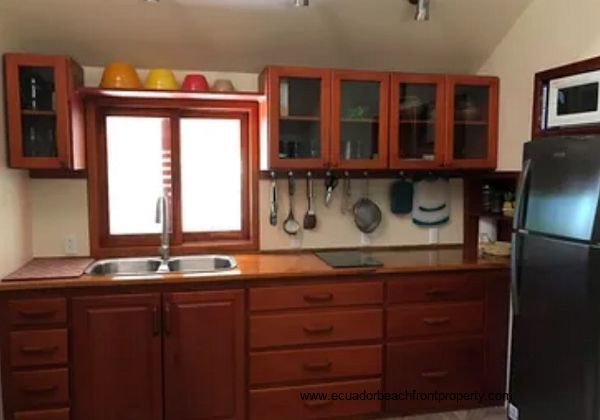 Off the kitchen is a spacious, covered outdoor living area that offers shade and a pleasant breeze. Ample countertop and storage space is availabile in the outdoor kitchen which is equipped with a gas stove and oven, refrigerator, sink, and washer. The outdoor space is furnished with a large, live-edge dining table and adirondack patio set for entertaining family and friends.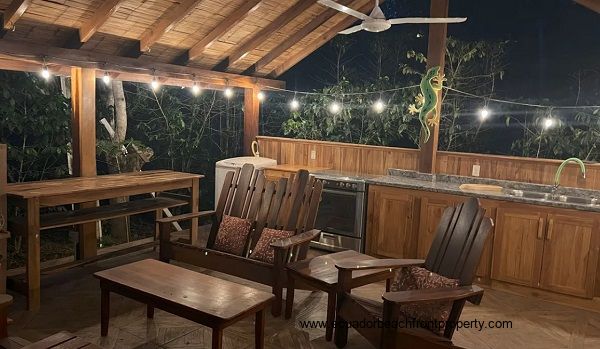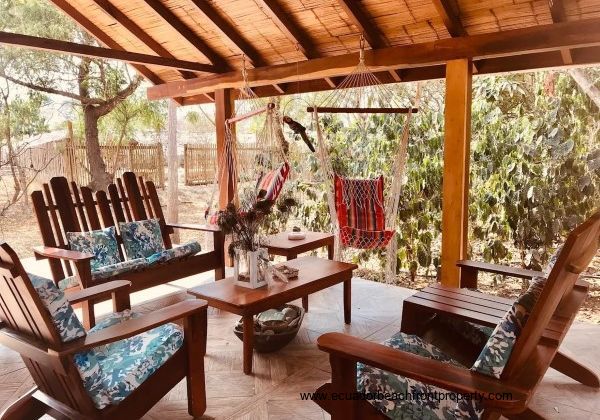 Casita #2 (Caretaker's Quarters)
The caretaker's house is a classic Ecuadorian 2-story dwelling that features 2 bedrooms upstairs and a living area, bathroom/laundry, kitchen and dining area downstairs. It has a large covered porch and a view of the gated property entrance.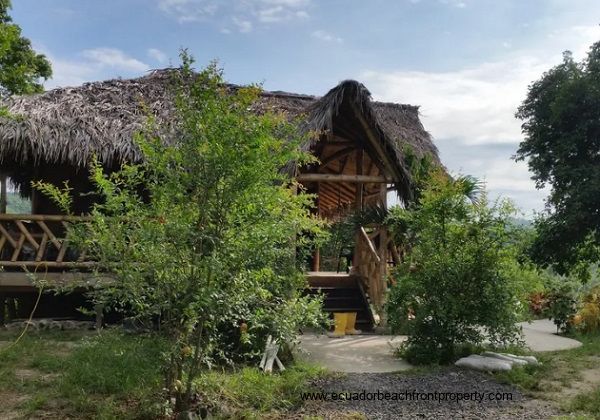 The Farm
Cultivate your dreams on 29.4 acres (11.9 hectares) of beautifully developed farmland, offering black fertile soil, a picturesque river, and ample opportunities for organic and regenerative farming practices.  This farm has everything you need to grow any cash crops you desire.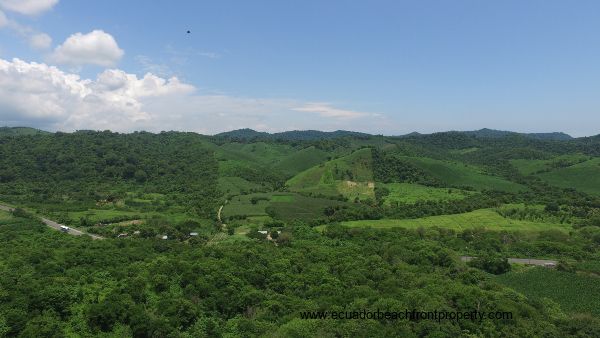 Savor the flavors of your own organic harvest: A wide variety of fruit trees thrive on the property including mango, coffee, passion fruit, dragon fruit, limes, mandarins, coconuts, cacao, papaya, starfruit, and bananas. In addition, there are several livestock enclosures, a chicken coop, a pond for ducks, and an enclosed paddock for donkeys.
A large, unique barn provides ample storage and workspace. It iis constructed from two 20 ft shipping containers with a 20 ft framed extension on the rear.  The container on the left is fully shelved to provide maximum storage capability. The container on the right is currently setup for the dry storage of wood. A large 40 m3 cistern ensures ample water supply.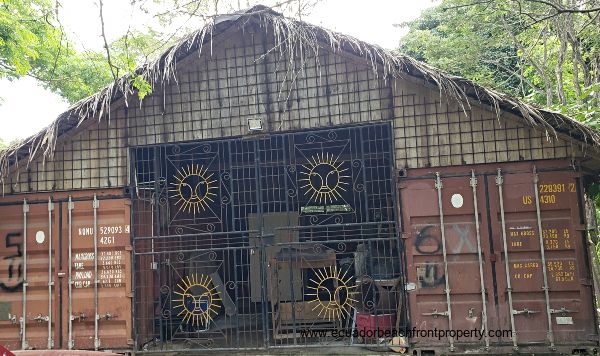 Convenient Location
This exceptional property is situated on the SW corner of the Bahia Highway (E15) and Pajonal Road, just a short 15 minute drive to the stunning beaches of Playa Pajonal. The vibrant town of Bahia de Caraquez is a mere 15-minute drive and provides access to a major shopping center, banking, and medical facilities. The city of Manta, with its international airport and transportation hub, can be reached within 1 hour and 15 minutes.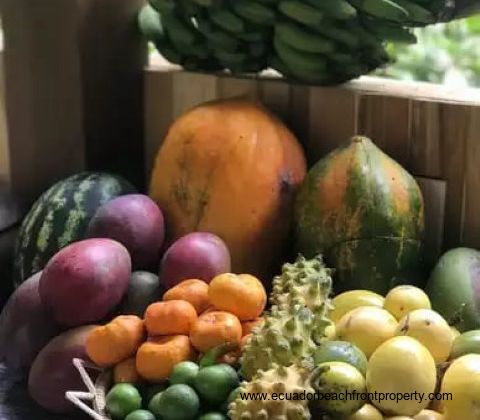 This remarkable property is located off the road leading to a 78-acre parcel recently acquired by Google partner, Wursta, in 2023. They have plans to construct a state-of-the-art campus dedicated to training cloud engineers. This exciting development presents a unique opportunity for the area, as the presence of such a prestigious tech company could potentially transform the surrounding stretch of beach into a tech hub and foster greater international tourism to the area. 
Income Potential
With fertile soil, diverse crops, and a prime location near the highway and beach, this property lends itself to income generation via an eco-lodge or agro-tourism operation. There is excellent potential to offer unique experiences to sustainability-minded tourists and promote regenerative farming practices.
Moreover, the property boasts a roadside farm-stand made with split bamboo siding and a metal roof. Inside, it features electricity, a spacious countertop, running water, and refrigeration. This is not your average road side tienda!
Contact Us Today 
Seize the opportunity to own Finca La Libélula, an extraordinary organic farm and homestead retreat. Experience the joy of sustainable living while immersing yourself in the natural beauty of Ecuador. Contact us directly to explore further details and to arrange a personal tour.
Come discover Ecuador!  
We now also offer an ALL-INCLUSIVE VACATION & REAL ESTATE DISCOVERY TOUR. Discover Ecuador's stunning central coast and its affordable real estate in an easy, fun, secure, and laid-back environment.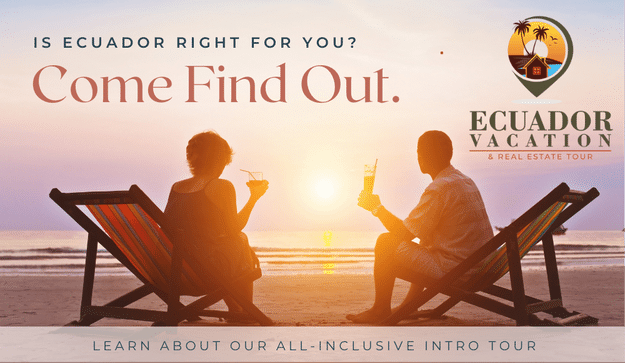 We look forward to hearing from you!