Introduction to the Best Places to Retire in Ecuador and their Surroundings
While the locations of our listings span much of Ecuador's coastline, the majority of our properties are concentrated along Ecuador's Central Coast, between Manta and Canoa in the Province of Manabi.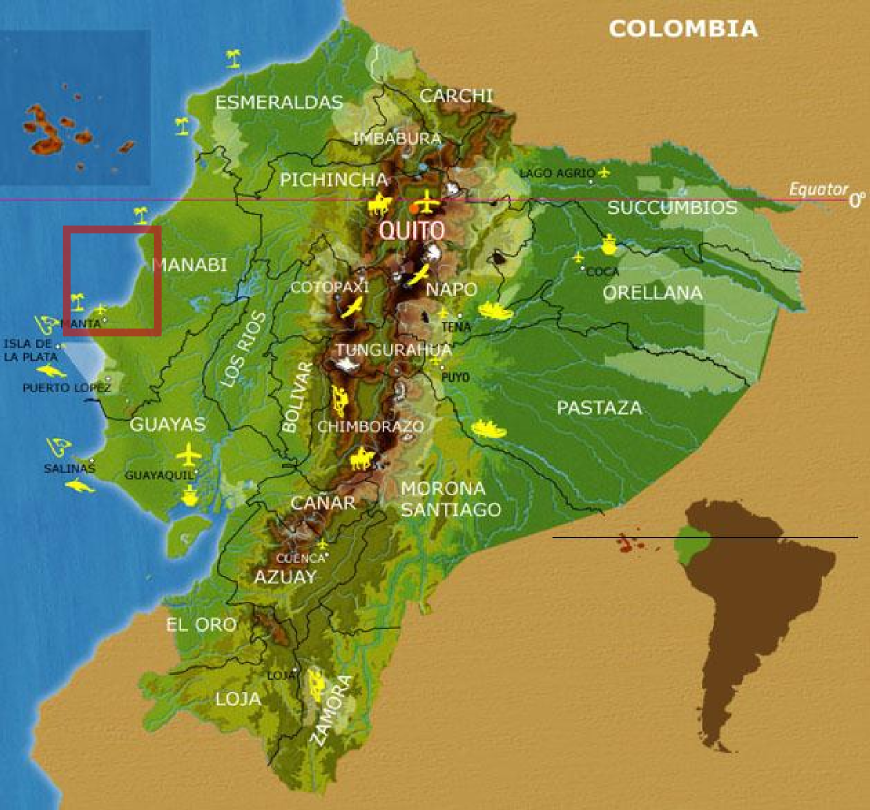 The locations of the prominent cities and towns in this region are shown in the image image below.
Manta 
Manta is a major city (pop. ~218,000) and is one of Ecuador's important ports. It is currently the only city with an operating airport along Ecuador's central and north coast with daily flights to/from Quito. Because of its proximity to conveniences such as the airport and shopping, Manta has attracted a large community of coastal expats. Learn more about the city of Manta.
Portoviejo
Portoviejo is the capital of the Province of Manabi and has a population of 207,000. It is s not a tourist or retirement destination and we don't have any properties there but we have it listed here because it is an important expat destination for shopping, universities, and hospitals. Learn more about the city of Portoviejo.
Crucita
Crucita is a small laid-back fishing and vacation town (pop. ~15,000). It is a popular site for paragliding and hang-gliding. Learn about the town of Crucita.
The Boca
The Boca is the stretch of beach just south and north of the mouth of the Portoviejo River as it empties into the Pacific Ocean. Here the beaches are wide and sandy and the location is relatively remote. The south bank of the river mouth is part of the outskirts of Crucita and and northern bank is part of the town of San Jacinto. Learn more about the Boca.
San Jacinto/San Alejo/San Clemente
The three small fishing towns of San Jacinto, San Alejo and San Clemente blend into one another along sleepy beaches that come alive during weekends and holidays. Palmazul, an upscale resort in San Clemente and the accompanying condos have helped to attract foreign visitors and investors alike.  View a street map of San Jacinto to San Clemente with restaurants and points of interest.
Bahia de Caraquez
The city of Bahia is a resort town popular with expats and upper-class Ecuadorians alike. It has a permanent resident population of ~20,000 and sits on the southern side of the beautiful Chone River and Estuary. Learn more about the city of Bahia.  
San Vicente
San Vicente is a small, yet bustling city that sits on the northern side of the bay, across the bridge from Bahia. Learn more about the city of San Vicente.
Canoa
Canoa is fast becoming a top coastal destinations for both tourists, expats, and real estate investors in Ecuador. And it is not surprising due to its expansive sandy beaches, great surfing, and cliffs that create ideal conditions for paragliding.  Learn more about the town of Canoa.