Digital Nomads & Ecuador: Experience or Invest
A "digital nomad" is essentially any person who has the ability and mobility to work remotely and chooses to do so. 
Often, digital nomads are seeking beautiful and exciting places to explore and experience while they work remotely.  Many digital nomads also appreciate when these locations provide a low cost of living and a high quality of life. 
That highly sought-after balance of beauty, adventure, quality of life, and low cost of living is precisely why Ecuador has been on the Digital Nomad's treasure map for so long.
Digital Nomads in Ecuador... circa 2006
The Digital Nomad movement has been around for about 15 years depending on when you draw the line in the sand on its origins. It was a fringe lifestyle that grew slowly but steadily in popularity. The limiting factor to the growth of the digital nomad movement was the lack of remote work jobs available.
That limitation was effectively removed in 2020 with the worldwide pandemic as companies and individuals were forced to adapt and create remote work solutions for their workforce. The result has been a drastic increase in the number of remote-work jobs. 
So what does this turn of events mean to the digital nomad world?  This situation has created many new opportunities for individuals and families to opt into the nomad lifestyle and also created a huge opportunity to provide exciting destinations designed for this new type of client.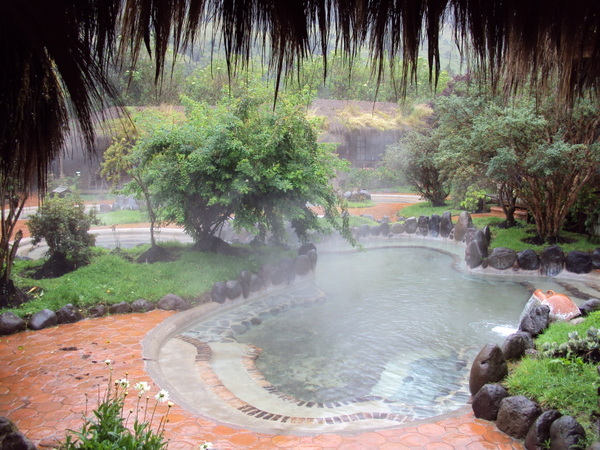 Thermal Hot Springs in the High Andean Grasslands of Ecuador
The first priority for a digital nomad is finding countries with ease of access for longer term stays. Ecuador meets this key requirement by providing a 90 day tourist visa that can be easily extended to 6 months for a low fee.
To promote this new form of tourism, Ecuador has recently created a specific Digital Nomad Visa!  Now, if you own your own company outside of Ecuador and/or have a work contract with approximately $15,400/year income, you AND your spouse and dependents can qualify to live in Ecuador for up to two years. Here is a link summarizing Ecuador's new digital nomad visa.
Next, Digital Nomads need good web access and Ecuador is well positioned with excellent fiber optic internet available.  Even small coastal fishing villages now have easy and inexpensive access to bandwidth with 100mb download speeds.
Aside from the core requirements, these traveling workers are seeking destinations that offer diverse experiences and Ecuador fits the bill with its 4 distinct geographic zones, all within an area smaller than the US state of Colorado!
Ecuador boasts warm coastal beaches, mountain cities with amazing vistas and volcanoes, the Amazon jungles, and the Galapagos Islands.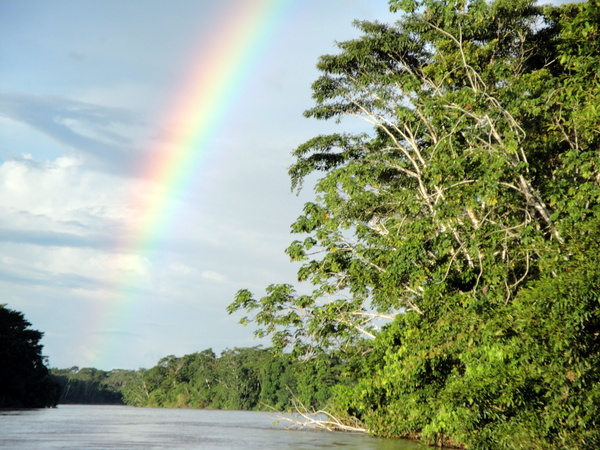 Meandering Rivers in the Amazon Region of Eastern Ecuador
Ecuador also delivers on the cuisine front with diverse, regional specialties. Everything from gourmet food experiences, small family-run restaurants, and street food vendors abound. You can even get cooking lessons from local chefs and learn the traditional cooking secrets. All this adds to the experience for the Nomad who will have months to explore and sample this array of culinary options.
Ecuador is also a very warm and welcoming country; the people are open and friendly, making it easy to feel at home here quickly. In most areas of the country you will find English-speaking expat communities. It is easy to find other world travelers to connect with and to share experiences, collaborate or just have a drink, relax and have a great conversation.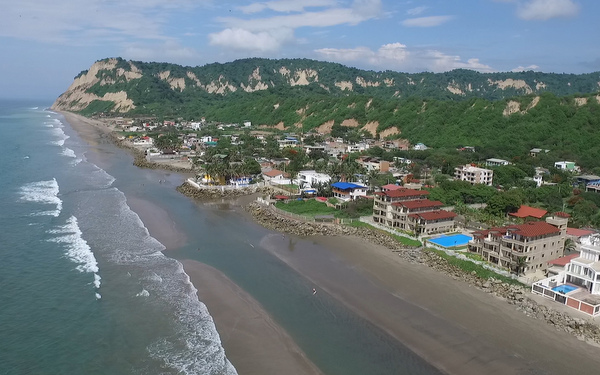 Beautiful Coastal Towns with Wide Beaches and Quality Accommodations (San Clemente, Ecuador)
This fluid travel/work lifestyle has created new opportunities for businesses to cater to these digital nomads.
This new traveler is looking for a slightly different travel experience. They need comfortable space with excellent internet to settle in and work from as well as a base to explore the surrounding areas.
Since they are working most days, not vacationing, a quiet and relaxing space is ideal…far enough away from noise and traffic but close enough to restaurants, beaches, etc.  Digital nomads tend to engage in activities both active and social (recreational activities like kayaking, game nights, cooking classes). They seek experiences and connections with the local communities, cultures, and other like-minded people.
They are different than the usual vacationer/retiree in that they go from country to country specifically to gather experiences and connect with like minded people. An existing hotel / hostel or B&B could shift to attract and cater to this new longer term client with a bit of work. Finding ways to create connections and facilitating social activities (or working with a local provider) will be a key component to adding richness and value to the experience of staying in the area.
An investor looking to start a new hotel, retreat or similar rental business could design into the facilities many of the details and amenities these travelers need. They also happen to suit regular clients so you don't have to sacrifice one to satisfy the other.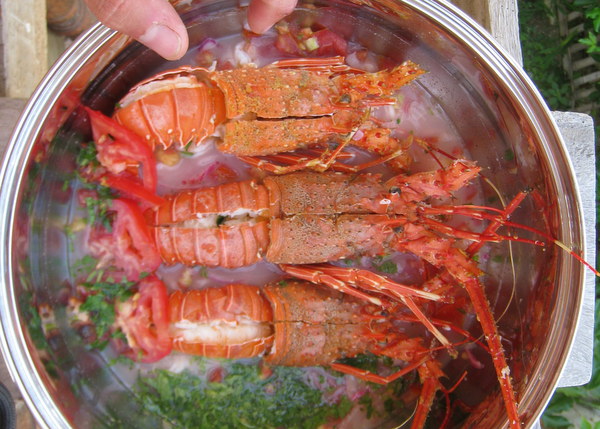 Spiny Lobster-a-Plenty, Usually around $6.00/lb. in Ecuador 
The Digital Nomad lifestyle is now available to a much larger percentage of the population and has moved from a fringe lifestyle to a more mainstream option. As a result there is a need for more accommodations tailored a bit more to this new type of visitor since the average hotel or B&B is not set up for or connected to the social, cultural aspects and activities these travelers look for.
If you are in the hospitality industry, this new customer is one you should be aware of. They will have a growing impact in countries that make them welcome.
If you are one of these travelers, consider Ecuador for your next long-term stay and explore all this diverse country has to offer.
Contact us if you are looking for a long term rental or are interested in Investment Properties catering to digital Nomads.  We'll look forward to speaking with you about your ideas.