Is Ecuador right for you? Come find out.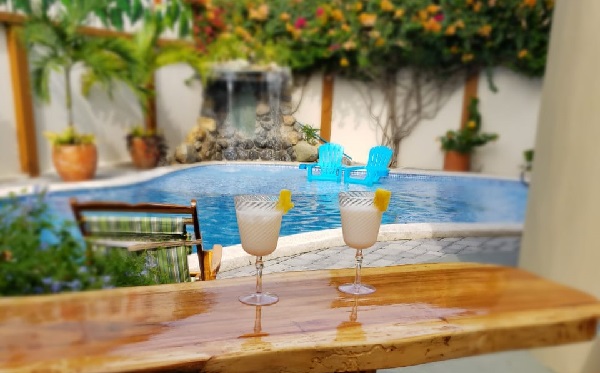 Cocktails by the pool at Casa de Terrazas Bed and Breakfast
Would you like a personalized intro to Ecuador real estate while you enjoy great food, excellent accommodations, and a memorable beach vacation?
Does an all-inclusive real-estate beach vacation sound good? Yes, please!
Interested ?--Let us help you take the next step!
Discover Ecuador's stunning central coast and its varied real estate options in an easy, fun, secure, and laid-back environment. 
Here's How:
Ecuador Beachfront Property has partnered with Casa de Terrazas Bed and Breakfast to offer you a truly immersive experience.  We will introduce you to Ecuador's coastal towns, local cuisine, outdoor and cultural activities, and the coastal real estate market. 
Who We Are:
Ecuador Beachfront Property is a licensed real estate brokerage that has been bridging the gap between foreign buyers (US, Canadian, European, Asian) and the Ecuador real estate market since 2006. 
Casa de Terrazas is a premier, 4-room bed and breakfast run by Canadian expats, Andrew and Carol, just steps from the beautiful sand beach in San Clemente. Guests will unwind in the tranquil oasis ambience, featuring swimming pool with waterfall, colorful tropical gardens, koi pond, and plenty of well-appointed terraces to take in the ocean views.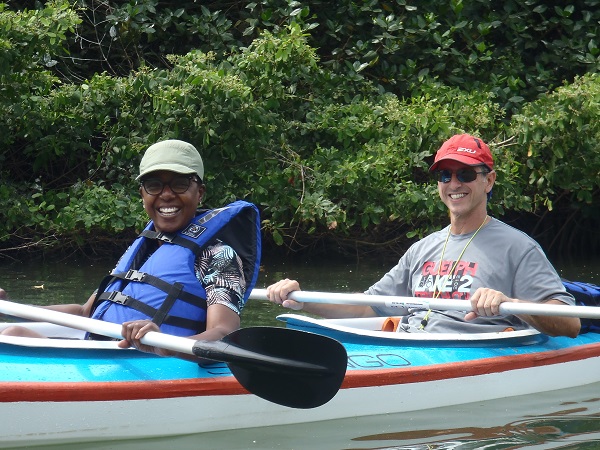 Carol Whittaker and Andrew Sweeny as your on-the-ground vacation and tour hosts
Why Do a Tour? 
Take advantage of our tour to maximize your time in Ecuador.
Our tour offers an immersive, toes-in-the-sand crash course that will be tailored to your individual needs.
Skip the hassle and insecurity of piece-mealing your exploratory visit to Ecuador. Let our experienced team of real estate and service industry experts do the work for you. 
With Andrew and Carol as your friendly, English-speaking hosts, you will:
get a jump start on discovering the best locations (for YOU) to live and invest;

gain firsthand insights into day-to-day life in Ecuador (medical, shopping, banking, etc);

meet other expats and hear about their real-life experiences of transitioning into a new way of life  

have fun while you explore real estate opportunities that match both your dreams and your budget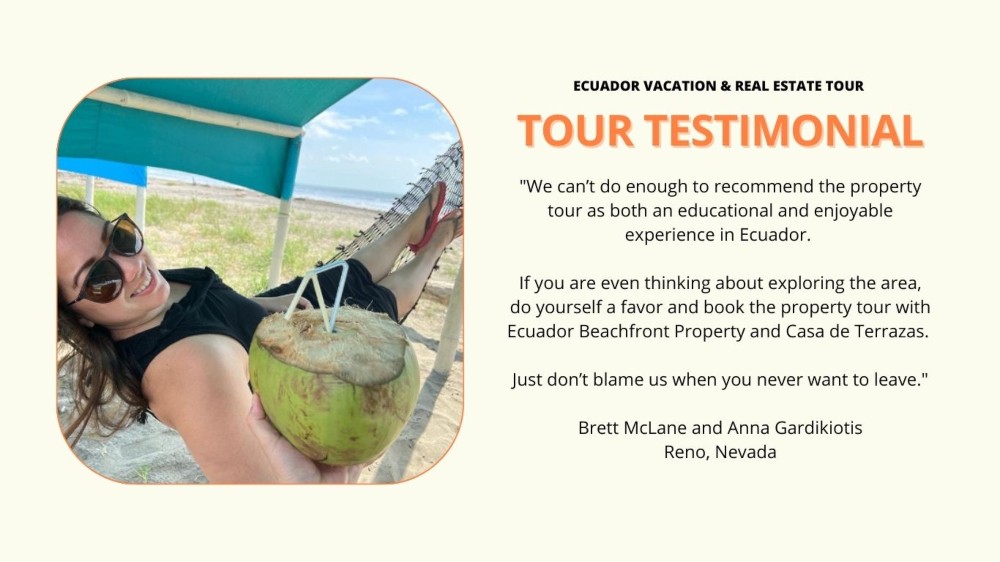 Click here to Read Brett and Anna's complete review of their tour experience
Contact us today so we can help you to start planning your visit!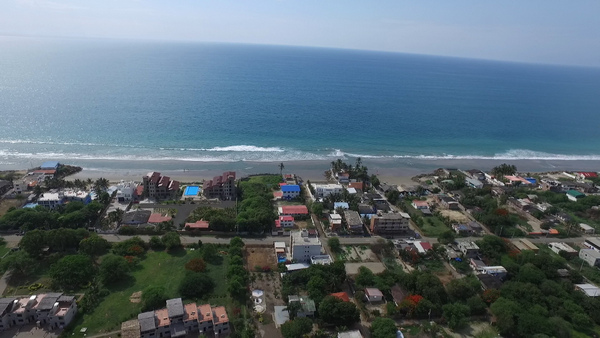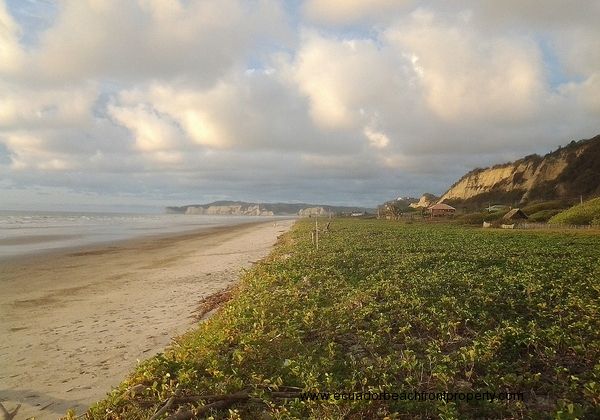 Coastal real estate opportunities include development projects, condos, single-family homes, and land ranging from small lots to large parcels.
What is Included?
Our one-week real estate vacation package for two people includes ALL of the following:
Airport pick-up

Secure transfer from the Guayaquil (GYE) or Manta (MEC) airport by our trusted professional driver

First Class Accommodations

Six-night stay at Casa de Terrazas B&B

Located steps from the beach in San Clemente

Amenities include Wifi, swimming pool, outdoor grill and pizza oven, hammocks, pool table, gardens, and oceanview terraces galore!

Breakfast, Lunch, and Dinner

Delicious, homemade breakfasts provided daily at Casa de Terrazas

Lunch, dinner, and your first drink at a local "best of" restaurant each day

Transportation

Secure and comfortable transport for all your tours and activities

English-speaking guides 

Don't worry if you aren't fluent in Spanish! We will have English speaking guides assisting you at each step of your journey.

 
Casa de Terrazas Bed and Breakfast is just steps to the beach and offers a sanctuary to unwind
How Much Does It Cost?
The tour price is $2,450 (US Dollars) for an all-inclusive tour package for two people for 6 nights/7 days. We accept payment via Zelle, credit card, or ACH transfer.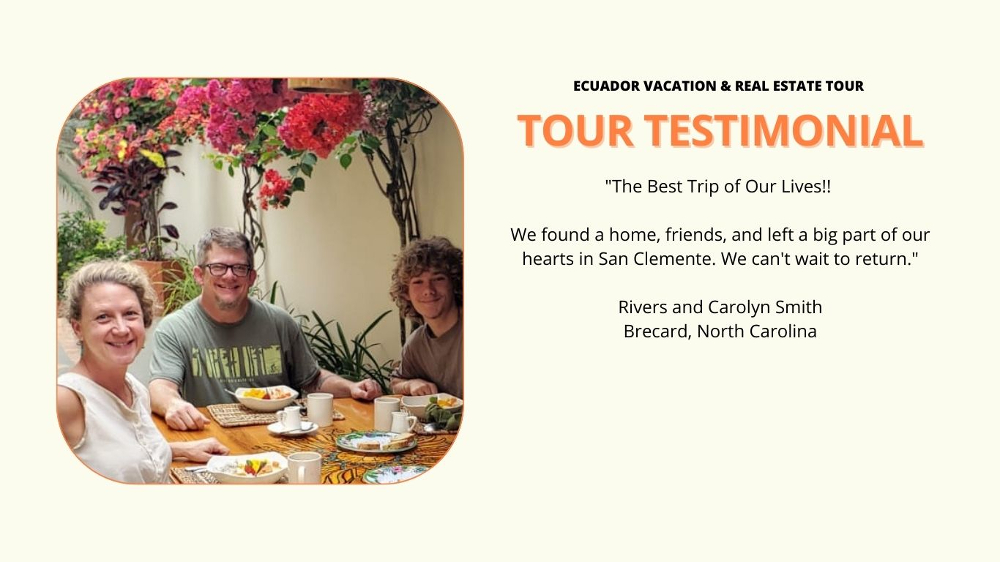 Click here to read River and Carolyn's complete review of their tour experience
Can I Make Changes to the Tour Package?
Yes, absolutely. 
Modifications to the standard tour package can be made and will be priced accordingly. Send us a message to get a quote. 
Some examples for customizing your tour include:  changing the number of people; opting to exclude meals; extending the tour beyond 6 nights; requesting separate rooms instead of a single room, etc. Just fill out the contact form and we will be in touch. 
Beachfront Condo Option
For those who desire a more independent tour experience and/or wish to have access to their own kitchen during their visit, we now also offer the same tour package with the option to stay in a fully equipped beachfront condo at Ensenada del Pacifico in San Clemente (located just a couple of blocks from your tour hosts).
This tour option is offered at the same price as the standard tour ($2,450) but only includes meals on real estate touring days. Just mention on the contact form that you wish for the condo option.  
What to Expect:
Once you book with us, we will set up a Zoom call with you to determine your specific interests and needs, and answer any questions you many have.

Prior to your arrival we will confirm with you a short-list of real estate properties to view in addition to scheduling any "a la carte" activities you wish to add.

We will tour the local coastal cities and towns of Canoa, San Vicente, Bahia de Caraquez, San Clemente, San Jacinto, Crucita, and Manta. 

You will be introduced to local markets, larger shopping centers, notable tourist spots, and spend time just exploring and getting a feel for each of the different areas and local amenities.

You will walk through real estate listings and/or development projects of your choosing. 

You are unique--We understand! Your real estate vacation package may be customized to suit your interests including integrating "a la carte" outdoor and cultural activities. We will do our best to accommodate special needs and dietary restrictions.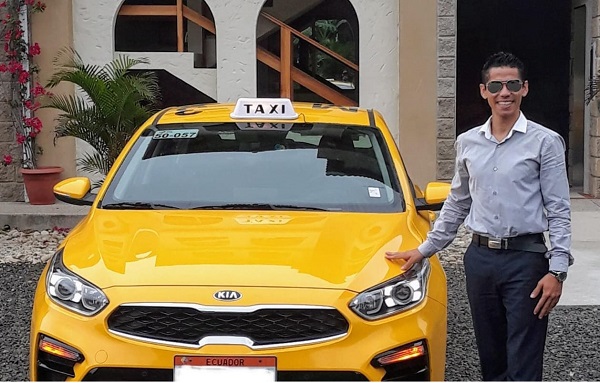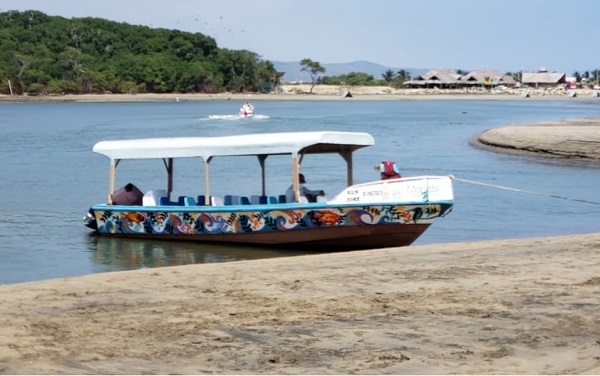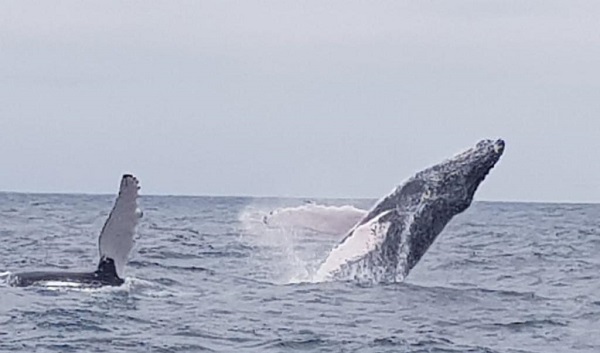 A la Carte Activities Include:   
Whale Watching for 2 (Seasonal, Local Departure, $72)

Kayak/bike/paddleboard rentals ($32 pp)

Pacoche Coastal Rainforest Tour (See/hear the Howler Monkeys, $160)

Isla de La Plata (Boat trip, whale-watching in season, blue-footed boobies, plus snorkeling to the "Poor Man's Galapagos", $265)

Mangrove Boat Tour ($14)

Montecristi Souvenir Shopping (Panama Hats, hammocks, coffee, custom furniture, $66)

Iche Culinary School Tour & Lunch (Delicious food with an Ocean View, $86)

Paragliding (depending on weather) $65

Sosote Tagua Tour, Souvenir shopping, and Lunch $45

Sainanda Tour (Visit Miguelito, the 130 year old Galapagos Tortoise, $38) 

Cerro Jaboncillo (Pre-Incan archaeological site, $150)

Bahia Historical Tour (Includes translator, $180) 

Surf Lesson (1 hour, $18) 

Horseback Tours (To a Local Craft Brewery $110 or On the Beach $125)

Manabi Coastal Cuisine Cooking (Lesson at the Boca with Edita, $75)

Deep Sea Fishing - TBD based on options
DOWNLOAD A SAMPLE 6-DAY ITINERARY
We are flexible and can make adjustments to our standard 6-day tour package to best suit your needs. Please reach out to us with any questions. We look forward to seeing you here soon!