Casa Crucita
***Occupied***
This fully equipped and furnished 1BR/2BA home sits less than one block off the beach.
Long Term Rental (6+ months) Only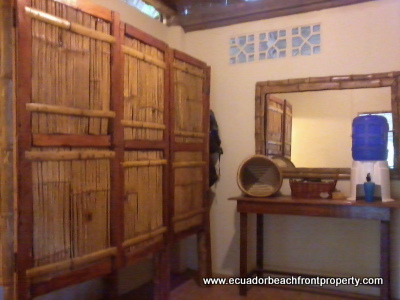 This quaint, thatched roof beach house is just steps away from the beach but is tucked enough away for it to feel like a little garden oasis, full of fruit trees and teeming with birds.
This is currently our home that we have renovated and lived in since 2006. We love this place but have decided to rent it because we need more space for our growing family.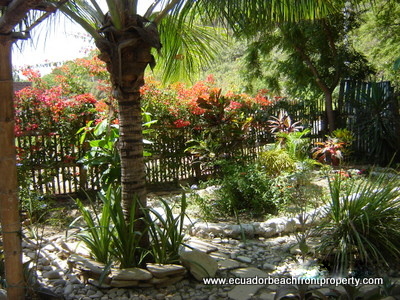 The total square footage of the house is approximately 1400 sq ft, including a furnished, screened-in porch with overhead fans.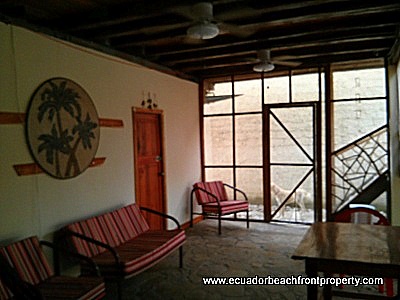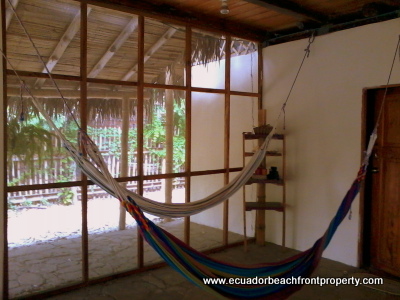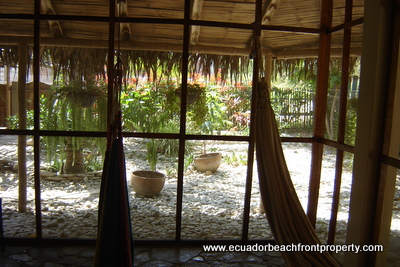 The upstairs features hard wood floors and an open floor plan. The living area is spacious and includes a nook that we currently use as a computer workspace.
The roof is pitched and is over 20 feet high and offers exceptional airflow, keeping it nice and cool throughout the year. The ceiling is made from split bamboo that is covered with plastic sheeting and then capped with layers of traditional thatch. It is surprisingly water tight, even in heavy rains.
The large kitchen is tiled, has plenty of granite counterspace, double sinks, is equipped with new, high quality appliances and has a view of the ocean in two directions.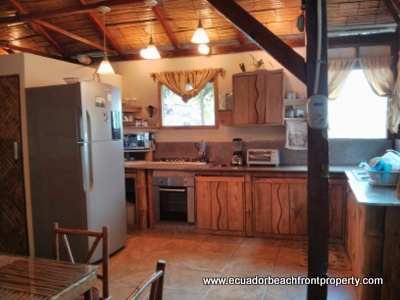 There is a walk-in pantry with lots of shelf space.
There is a full bath upstairs. All fixtures throughout the house (including the outdoor bamboo shower for coming in off the beach) have both hot and cold plumbing.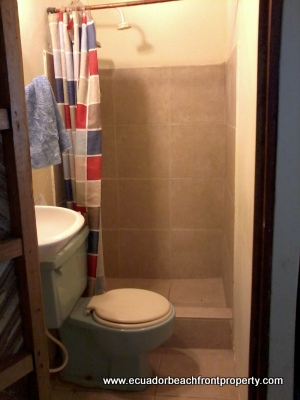 The balcony is a great place to relax and enjoy the garden and birds.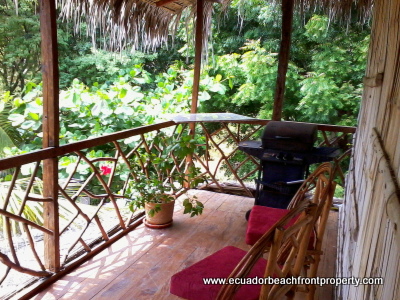 Downstairs is the bedroom that is equipped with A/C and queen size bed.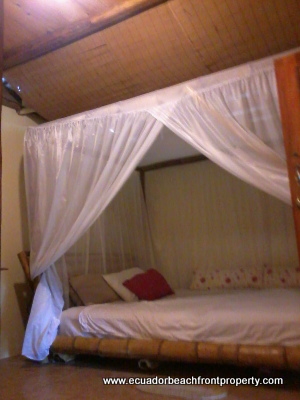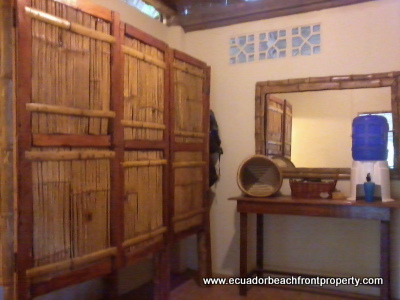 The bedroom has a full bath with storage of toiletries.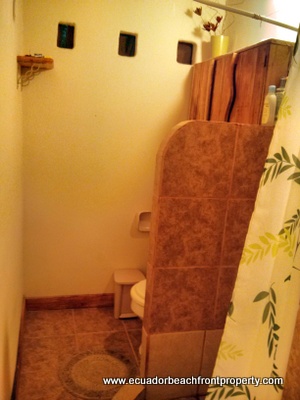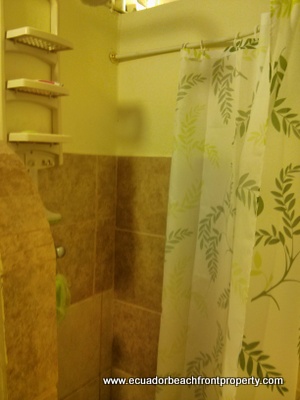 A second bedroom is currently being used as a laundry room/storage space and is equipped with a washing machine and brand new dryer.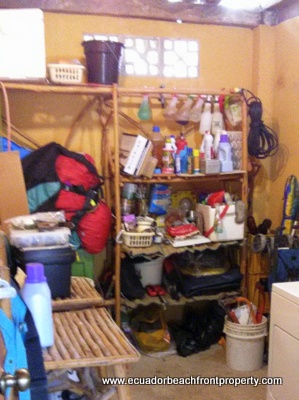 On the left is the master bedroom and on the right is the laundry room/storage room.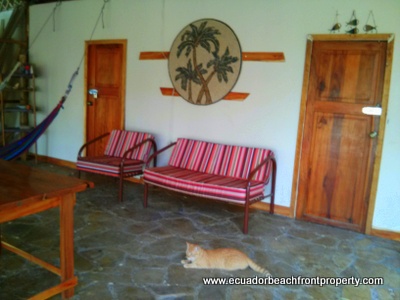 The house has a large cistern as well as an elevated water tank to ensure that plenty of water is available throughout the house during power outages.
Location of "Casa Crucita" relative to the beach (thatch roofed house with blue raised water tank).
We are within 100 feet of the beach on Crucita's quiet southern end. We are within short walking distance (~5 min) to seafood restaurants and the fishing boats for fresh fish in the mornings. There is a small storefront less than a minute away that has basic supplies like milk, fresh eggs, some veggies, toiletries, can recharge the minutes on your cell phone and has a cabina for making long-distance calls. There is also a little corner restaurant 2 houses away that serves yummy ceviches and also sells big, cold Pilsener beers by the case.
Monthly rate is $500 (available for 6 months or more only):
This rate includes water, electric, internet, and bi-monthly gardening service.
Security deposit is $500 and is refundable at the end of the rental period given that no damages were incurred.
Pets ok with additional pet deposit.
Please reference "Casa Crucita rental" in your communications.
Thanks for looking!