A 3-story, 5 bedroom/ 3 bathroom beachfront property. Each floor has a small kitchenette and could be updated into 3 rental units.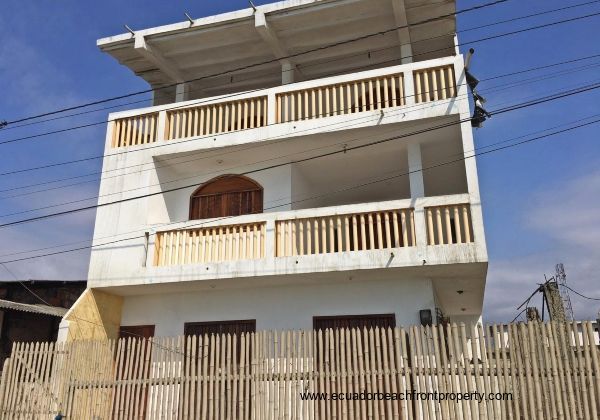 Beautiful ocean views and sunsets can be enjoyed from all levels of this spacious, 3-story beachfront home.
This property features 5 bedrooms, 3 bathrooms (one per floor) and 1 kitchenette per floor.  Each floor has approximately 900 sq feet of enclosed space. This configuration allows the option of converting this home into a 3-unit rental property. Alternatively, the ground level could be used as a business and the upper floors as residential space.  Many configurations are possible with this house.  
With some updating, this property would make a spectacular beachfront home or an income-generating property. The piece of land beside this house is available for purchase if you wanted to add a pool. 
This property is located in the friendly fishing town of San Jacinto, right on the beachfront boulevard and within walking distance to a fish market, restaurants, small stores for basic supplies, local bank with ATM, and buses into the cities of Bahia, Manta, and Portoviejo. 
Please reach out to us with any questions or to schedule a showing. For your convenience, we now offer VIRTUAL SHOWINGS. View this property in real time from anywhere in the world! Contact us today to schedule yours.
We look forward to hearing from you!