-- SOLD -- The best value on Ecuador's coast! After a major price reduction this home can be purchased for just $249,000! Perfect for a BnB this home features over 6,700 square feet, 5 bedrooms and 4.5 baths, just gushing with organic beachfront beauty. Excellent income potential as a Bed and Breakfast.
---SOLD---
There just aren't enough complimentary adjectives to describe this airy, open, and peaceful custom-built beachfront dream home.
Relax in the garden and pool oasis
The property itself is tucked between a mangrove reserve and a wide sandy beach.  The home boasts priceless views across the mouth of a river and out over the vast expanse of the Pacific Ocean. The attraction of this unique location has resulted in newer custom built homes owned by a mixed community of American/Canadian retirees and local Ecuadorians. 
An incredible spot for nature lovers with ample opportunities for birdwatching, fishing, kayaking, and surfing.  The beach stretches for many miles to the North and the nearby downtown of San Jacinto has an ATM and multiple restaurants.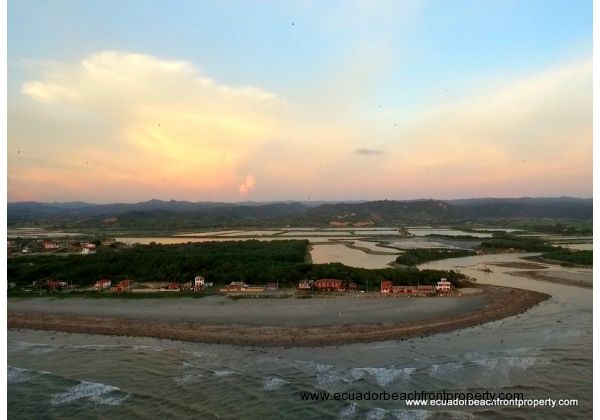 This home was designed to bring the outdoors inside while also creating elegant comfort at the same time.  The wide open spaces, high ceilings, and open views create an environment of decompression, exhales, and relaxation.   Built by an Ecuadorian Craftsman and his wife, a Swedish World Banker, this home is an excellent integration of Swedish attention to detail with local materials, flavor, and craftsmanship.  The entire structure is built using Ecuadorian hardwood, Guayacán, that the owners harvested from their own hacienda.  All of the joinery was attended to by the owner himself as they oversaw the details of the construction.  A genuine tile roof and skylights in the rooms make for an elegant and light-filled space.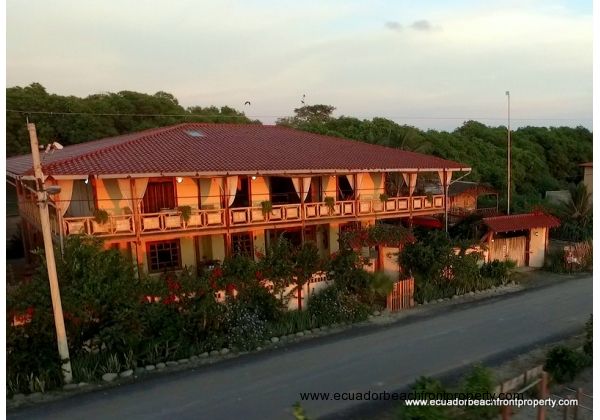 The ground level has an expansive covered porch and impressive open concept great room with the kitchen flowing into the dining and living rooms, entryway, garden space in the back and the wide wooden stairway to the second floor.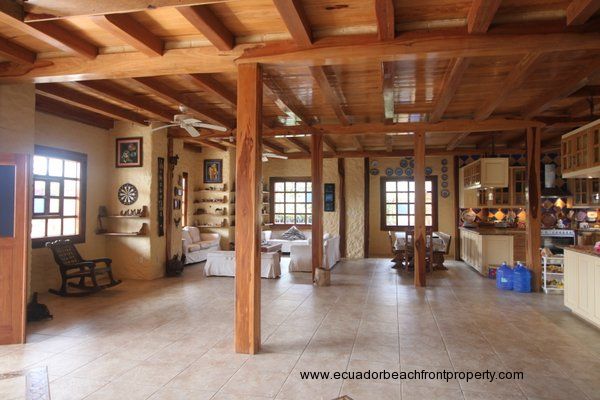 Custom touches include the hardwood plank stairway, slate waterfall feature, and 2-story floor-to-ceiling windows for natural lighting and views into the garden and pool.
The kitchen is filled with imported Whirlpool-brand appliances, including a dishwasher, and finished with Brazilian granite and custom wood cabinetry.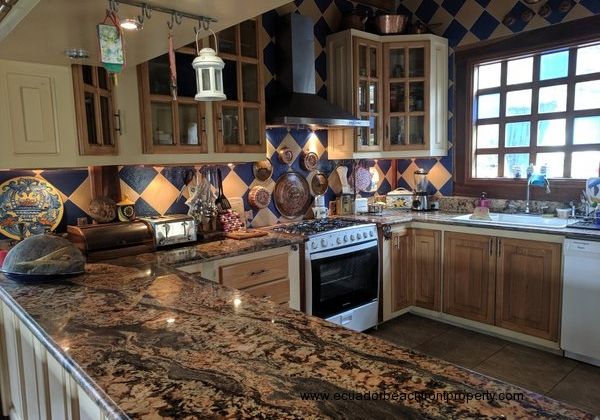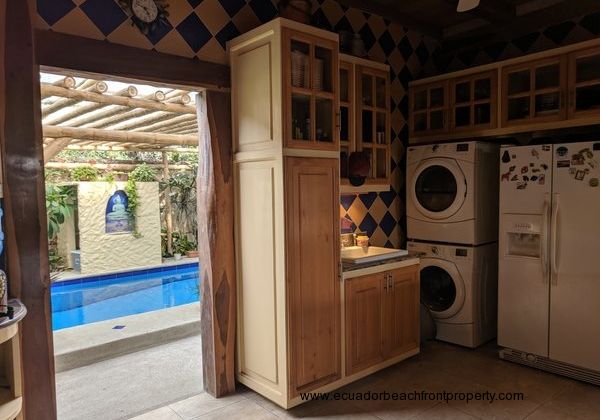 An integrated caretakers quarters is built into the back corner of the home and has its own private entrance and bath.  The first floor also has a guest bath and a spacious yet cozy library and office space.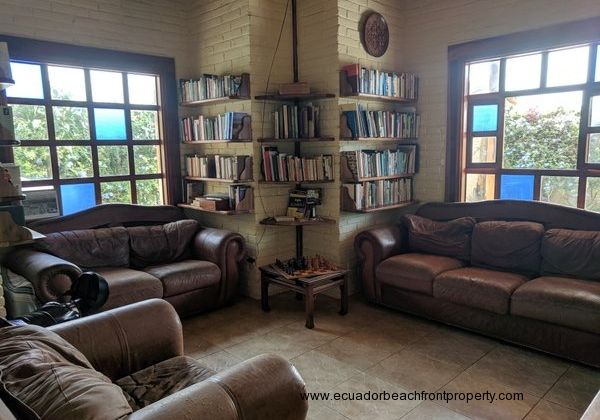 An impressive double stairway connects the first and second floors and is a work of art in and of itself.  The stairway leads to a wide hallway with views out to the simply astonishing balcony with its wide open spaces and incredible views.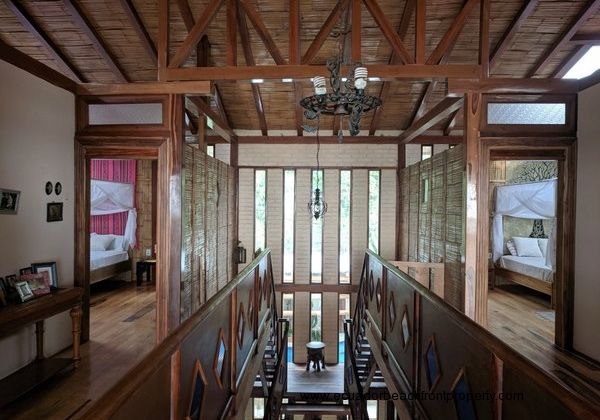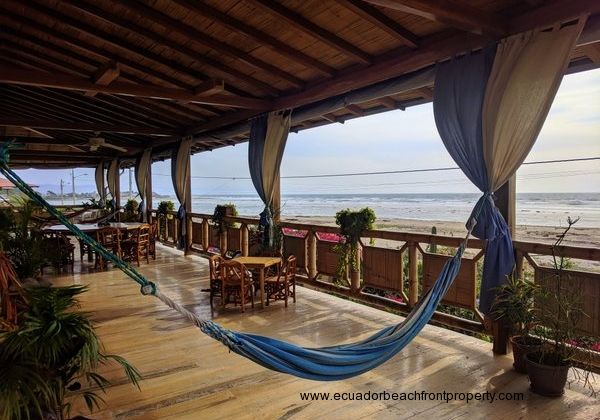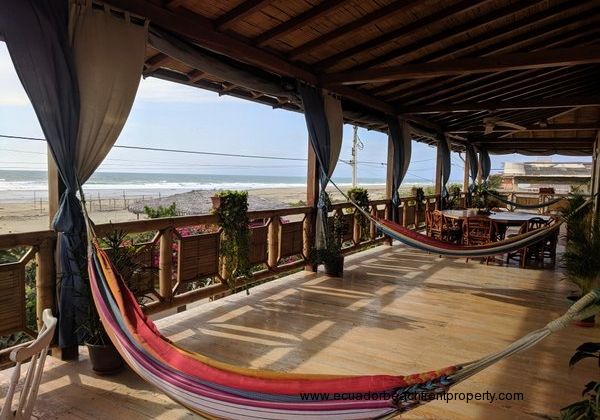 Four over-sized bedrooms share the second-floor with the wrap-around balcony.  Two bedrooms have private baths while the other two share a Jack & Jill bath, each with its own entry to the bath. 
The Master bedroom is features a large walk-in closet, sitting area, two sets of double doors leading out to the balcony, and an ensuite bath with double sinks and walk-in shower.  All of the bedrooms are open to the high ceilings and have excellent ventilation.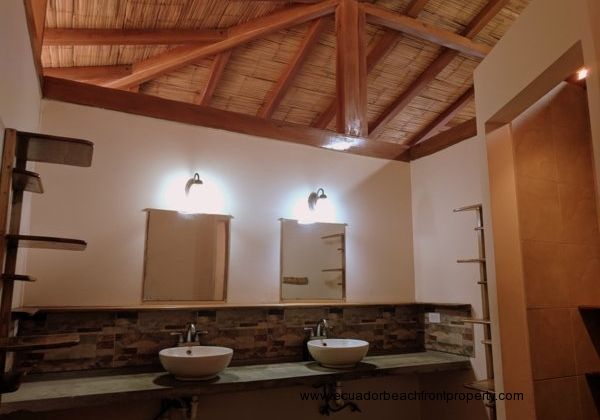 A second large bedroom includes two queen beds, sitting area, ensuite bath, and double doors leading to the balcony. This and another smaller room are currently listed as holiday rentals on Airbnb.
Outbuildings on the site include four storage rooms (which can easily be converted into additional guest rooms), poolside bath/changing room, large garage area, and an outdoor kitchen.
The owners recently added a new pool and upgraded their outdoor kitchen.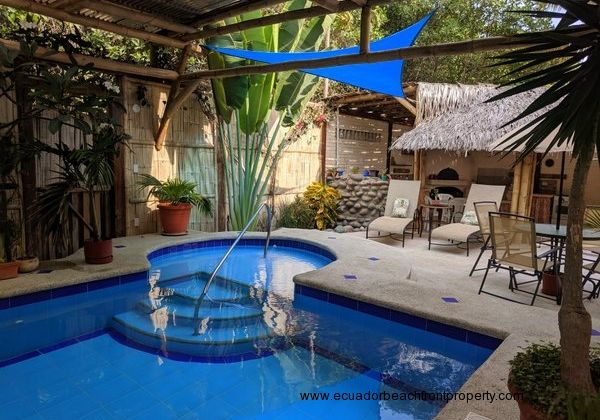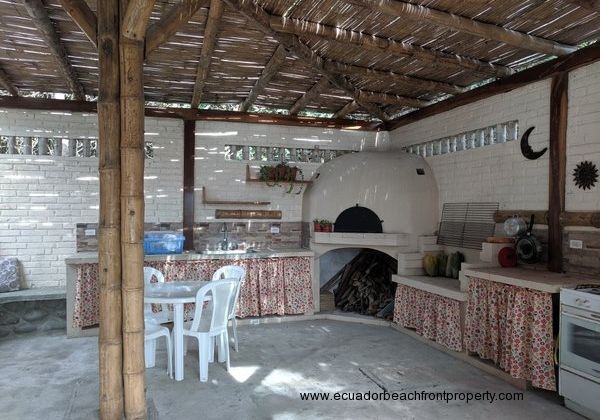 This gorgeous property and its unique beach/river/mangrove location yields a unique business opportunity for someone looking to create a bed & breakfast.
Please see all of the photos at the slideshow at the top of the page.  There are over 90 photos so please allow it some time to load depending on your internet speed.
Please Contact Us with any questions or to arrange a showing.