This property offers 3 hectares (7.4 acres) of land along a bluff with 328 ft (100 meters) of beach frontage. Priced for MUCH less than $1/sq ft
Originally listed at $300k - Now, due to personal issues, the owner has said SELL! A great investment opportunity and/or a remote location for someone seeking to live off the grid and away from the crowds.
Located on the spectacular stretch of coast between San Clemente and Bahia, this is one of the very final frontiers for development along Ecuador's Coast.
This property would also appeal either to the investor or to the person looking for a large beachfront property to live off the grid and away from electromagnetic forces.
Buy this gorgeous property at this reduced rate and reap the rewards as the area develops over the next several years--several large projects including a golf course/residential development, are presently underway and a road to the bluff is already being built.
This property was last purchased in 2009 and has a clean and clear title.
A professional soil and geological survey was completed in 2009 (we can send you a copy--in Spanish only). The report concluded that this specific section of the bluff is very stable and suitable for development. Unlike most of the other lots along this stretch of coast, this parcel has a large, flat, buildable area.
Located 6 miles south of the city of Bahia and about 1.5 hours from the city of Manta which has daily flights to and from Quito. 
Here is a short video highlighting the beauty of this stretch of beach where this large beachfront property is located.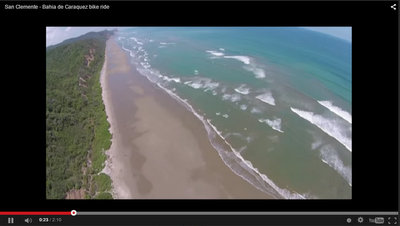 Also, here is an aerial video of the beautiful Pajonal coastline as shot by a local paraglider during his flight. The 7.4 acres of land for sale appears around minute 2:20.