PRICE LOWERED from $179,000!! Close by December 25th to lock in the price reduction! Price goes back up to $171,000 come Jan 1st. Enjoy serene country living on your own 4.2 acres (1.7 hectares). This furnished, 4-bedroom, 3-story home is surrounded by an abundance of fruit trees and bamboo and is located just 20 minutes to the spectacular beaches of Canoa.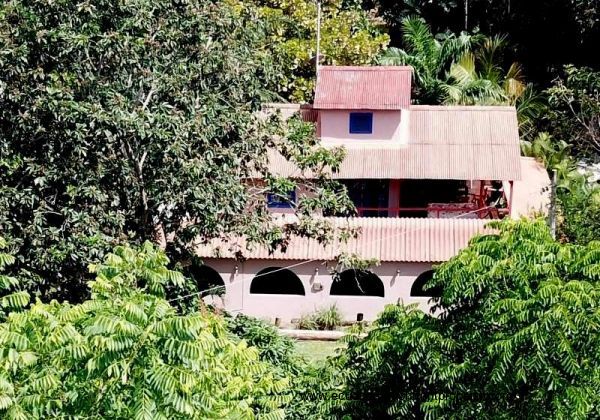 This 4.2 acre property (1.7 ha) offers a sanctuary for self-sufficiency with its abundance of mature gardens, fruit trees, and bamboo. Just imagine wandering through your own gardens of passion fruit vines, mandarins, limes, mature cacao (chocolate!), multiple varieties of mango, bananas, grapefruits, guava, cherries, watermelon vines and more!
A private, 25 meter well and two below-ground cisterns supply plenty of fresh water to both the house and land.  

The property features a 3-story, 4 bedroom/2 bath country farm house with 1,550 sq ft of interior space plus another 550 square feet of covered balconies.
And even though it's off the beaten path, it has a good internet connection!
The open plan kitchen includes a 5-burner gas stove, refrigerator, and basic cookware and has a large walk-in pantry/storage room.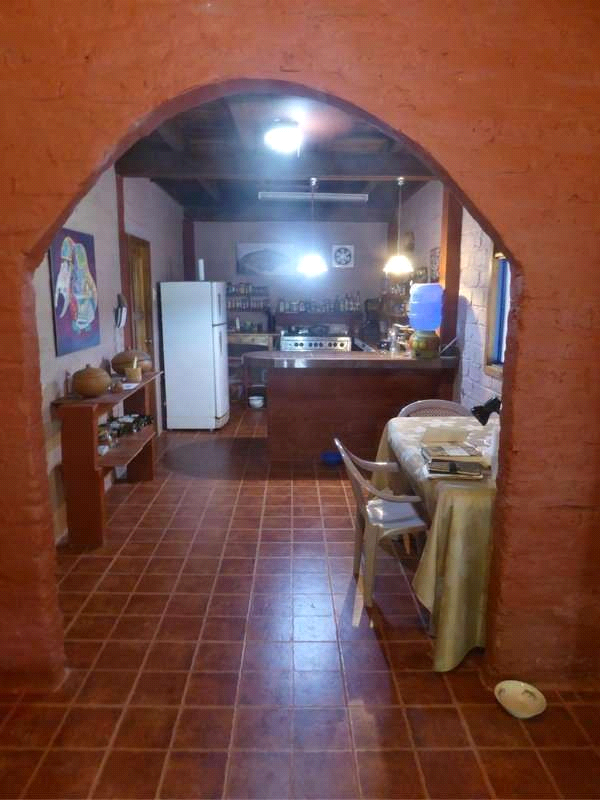 An arched opening connects the entry parlor and kitchen. A living area features arched windows and wood furnishings made from wood harvested from the property. Also found on the ground floor level is a small bedroom, separate full bath, a den, and a media room equipped with a large screen projector. 
The second level features two bedrooms and a second full bathroom. It also has an extensive, covered balcony overlooking the grounds plus a bed for those who wish to nap in the open air!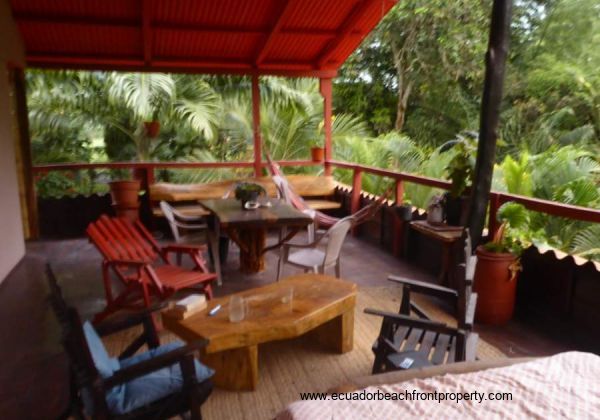 The third level of the home boasts a cupola-style bedroom with split bamboo walls and views overlooking the verdant property. 
Summary of property features:
4.2 acres (1.7 hectares)
Submersible water pump, 2 additional pumps and 2 cisterns
River access 50 meters from front gate
Exterior bodega (workshop/storage shed)
Small concrete pad (for additional building or extra parking space)
All tools and supplies included
Ample space for the construction of additional homes or structures
Hundreds of bamboo growing to build with
Front gate made of wood and metal 
Video security system
Summary of features of the farm house:
1,550 sq ft enclosed
3-story home built on a double thick foundation
4 bedrooms including linens, window coverings. Much of the furniture is custom-made laurel wood which has dark and light aspects
Media room with large screen projector
Living room and second floor balcony has benches made from trees cut on property
Full kitchen including 5-burner stove, fridge, all other basic equipment, utensils and spices
Utility room/kitchen pantry
Den
4 room sound system (kitchen, living room, den, and media room)
Large second floor balcony with additional guest bed
Two full baths plus an outside solar shower
Gas dryer (no washing machine included)
Wraparound patio and flow through ventilation (ceiling gap) keeps home cool when weather is warmer
Enclosed storage under steps leading to second floor
Internet wi-fi
Summary of the plantings:
Bamboo
10 balsa trees
Coconut palms
20 moringa trees (superfood: leaves, roots, seeds are high potency nutrition)
40 mature cacao trees. Make your own chocolate!
Several coffee bean plants
40 producing mango, different varieties
25 lime trees
40+ banana and plantain trees
100 meters of passionfruit ("maracuya") vines
25 orange bushes
7 noni trees
4 grapefruit trees
2 guava trees
2 cherry tress
2 jackfruit trees
2 orange trees
4 mandarin orange trees
Also growing sweet corn, cantaloupe, watermelon and calabasas melon.
There is plenty of room to plant whatever your heart desires or just enjoy this property as it is and stay busy harvesting the bounty. 
*Owners Note: This is a great area for growing balsa, a very high profit possibility here that would produce an average of more than $12,000 per year on a half hectare, easily available here on open space. Harvest can be in about 4 years, netting over $48,000 per half hectare. You could choose to grow for much longer before harvest. It is so under-supplied now thatChinese company representatives have been guaranteeing up to $100 per tree at four years. 500 trees per half hectare can be planted. 75% of the worlds balsa comes from Ecuador. That possible 12k per year income from balsa is in addition to any other
farm income, most of which has come from the mangoes in February. With proper management and crop choices, this can be a very productive small farm.
This property is located just a 20 min drive north of the spectacular sand and surfing beaches of Canoa and is a three-minute walk to the nearest shop for basic supplies. A renowned organic farm and ecolodge is within a few minutes drive. Medical facilities and a major shopping center is 40 minutes from the property.
For more details and images, please check out the PDF document created by the seller (scroll to the bottom of this listing page just after the map until you come the Property Attachment link).
This property is a must-see to appreciate all its the unique features and myriad possibilities.
Please contact us with your questions and/or to arrange a viewing.