7.4 acre beachfront property (3 hectares) along a bluff with 328 ft of beach frontage. Priced at just $2/sq m.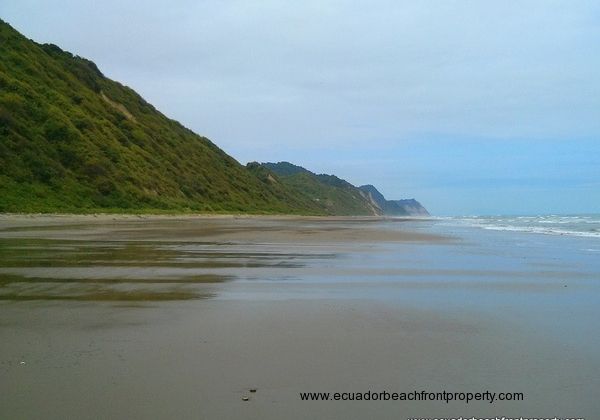 Priced at $2/sq m (less than $0.20/sq ft). 
The property measures 100 m wide x 300 m deep. Total area is 3 hectares (7.4 acres).
A unique investment opportunity and/or a remote location for someone seeking to live off the grid and away from the crowds.
Located on the spectacular stretch of coast between San Clemente and Bahia, this is one of the final frontiers for development along Ecuador's Coast.
Buy this gorgeous property at this reduced rate and reap the rewards as the area develops over time.
This property was last purchased in 2009 and has a clean and clear title.
A professional soil and geological survey was completed in 2009 (we can send you a copy--in Spanish only). The report concluded that this specific section of the bluff is very stable and suitable for development. Unlike most of the other lots along this stretch of coast, this parcel has a flat, buildable area.
Located 6 miles south of the city of Bahia and about 1.5 hours from the city of Manta which has daily flights to and from Quito. 
Please contact us with any questions, to plan your visit, or to schedule a showing.
Neighborhood
Super market:

30 minutes by Car

Beach:

1 minutes by Walk

Airport:

60 minutes by Car

Hospital:

30 minutes by Car

Shopping center:

30 minutes by Car