PRICE REDUCED AGAIN!- Lowered by $40,000 to only $80,000! A newly renovated 3 bedroom/3 bath property located at the quiet southern end of Crucita, just one block to the beach and two blocks to downtown.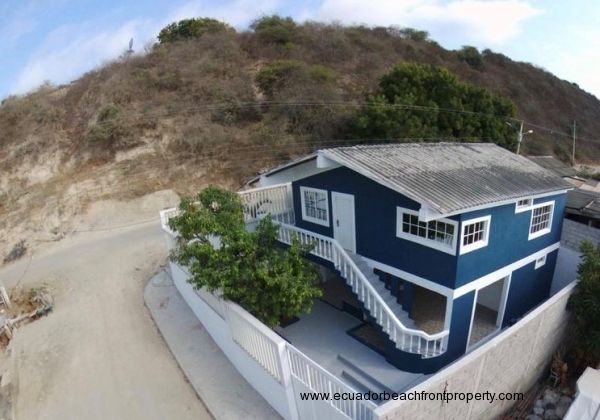 This 2-story home sits on a 1,962 sq ft corner lot with a 9 foot privacy wall and features nearly 1,400 sq feet of living space. 
Ground level
As you enter the property you are greeted with a large, covered patio with 377 sq ft (35m2) of space with ceramic tile and a pair of hammocks awaiting you. From here is the entrance to the spacious 245 sq ft (22.75m2) ground floor suite with ensuite bath. This room is equipped with an extra wide bathroom door for wheel chair access. Washer and dryer hookups are located here. 
The entire outdoor space is paved to minimize yard maintenance and is shaded by fruiting trees including mango, cherry, and guanabana. 
The yard has an outdoor shower for rinsing off after a warm ocean swim and a separate foot wash/garden hose area. Parking is located within the enclosed secured yard. There is an option to add an outside bathroom.
2nd Level
A staircase leads you to a 102 sq ft (9.5m2) covered balcony. You can view the ocean to the West or the sunrise to the Northeast.
The house has 1,392 sq ft (129.3 m2) of open living space with plenty of natural light and 16' open beam wood ceilings throughout.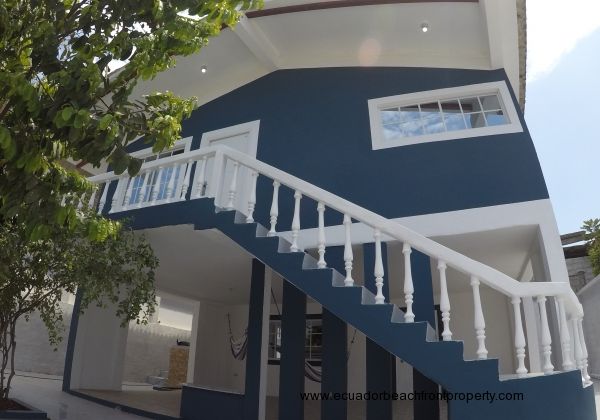 The kitchen is new with granite countertops and stainless-steel sink, composite wood cabinets with built in dish rack, light over the sink, and a small pantry with a built-in stainless-steel organizer. An ocean view completes the kitchen!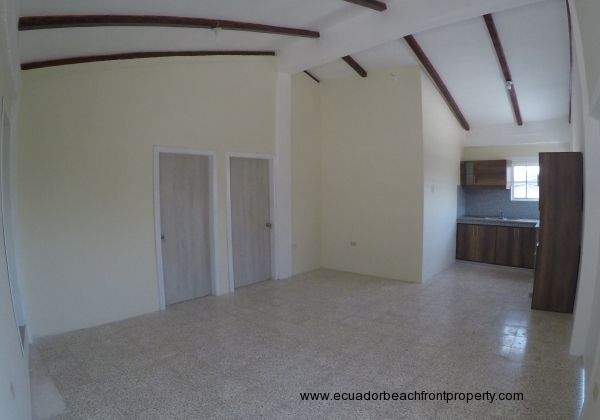 The master bedroom with ensuite bath, second bedroom and social bath are located off the living area. 
General
This home has all new wiring, including 220 for A/C in each bedroom. It is pre-wired for cable TV, WI-FI Internet, and ceiling fans in each room. All new plumbing has been installed including all new pipes and fixtures (i.e. faucets, sinks, toilets, and shower), water pressure tank, and water pump. Hot water is plumbed throughout the home and a new hot water heater will be installed. The water cistern is new and holds 10 cubic meters. This home is on city water.
The septic tank is new and is 2 cubic meters in size. It has been plumbed and is ready to be connected to the city sewer system once the municipality has finalized the treatment system.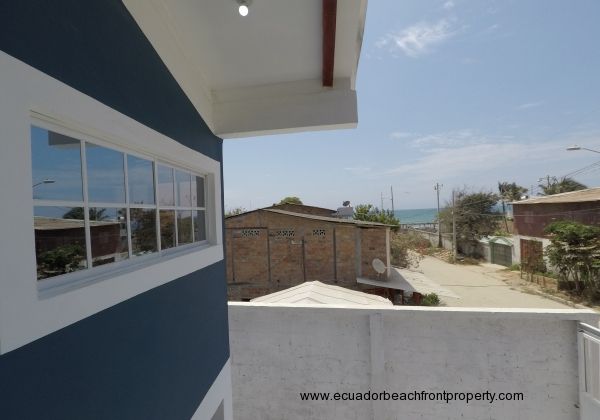 All older supporting columns have been reinforced, and 6 new support columns added. New steel security doors have been installed on the ground floor suite and the front door to the residence. All windows are vinyl-tinted, insulated sliding windows with screens.
A 9-foot (2.8m) block wall secures this property. Access is provided via a drive-through steel security gate or a walk-through door.
Crucita is a popular beach town features paragliding, surfing, and plenty of fresh seafood. It is conveniently located just 40 minutes to the Manta airport and 35 minutes to the city of Portoviejo. Price is negotiable. Please contact us with your questions and to schedule a viewing.