--SOLD--A 2-story 1BR/2BA beach cottage with rustic charm that sits just 2 houses off the beach. This is the home for someone wanting a simple and affordable place to enjoy the beach life.
This 1 bedroom/2 bath home sits on a lot that is 46 feet wide by 65 feet deep (14 m x 20 m). The yard boasts mature fruit trees including a coconut palm, sour orange, and mango. The property is enclosed with a 9 foot privacy wall on all four sides.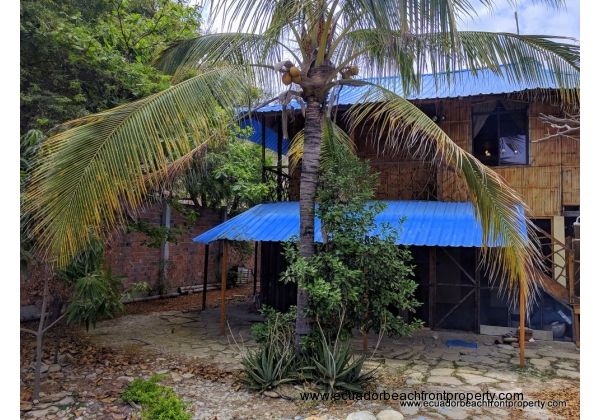 The beach cottage is located on the quiet southern end of the town of Crucita, a small fishing town with a growing expat population. Crucita is conveniently located 30-40 minutes from the major cities of Portoviejo and Manta for all your shopping, medical, and transportation needs. This beach cottage is a 5-minute walk to the nearest restaurants and to fishermen's boats for buying fresh seafood.  
In a less than a one minute's walk from the property, you are standing on the beach. View looking north toward Crucita's restaurants, small shops, etc.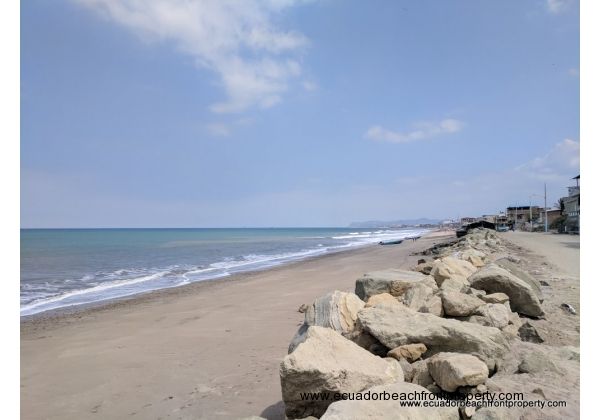 The beach cottage is 2-stories with 1,033 sq ft (96 sq m) of construction plus a 345 sq ft screened in porch (32 sq m). The ground level is built from reinforced concrete with brick in-fill and the second level is made of wood framing with split bamboo walls and hardwood floors and ceilings. The roof is galvanized aluminum and was installed in 2017.
The ground level boasts a spacious 345 sq ft screened-in porch and a natural stone floor-- an ideal space for for lazing about while enjoying the sounds of birds and waves.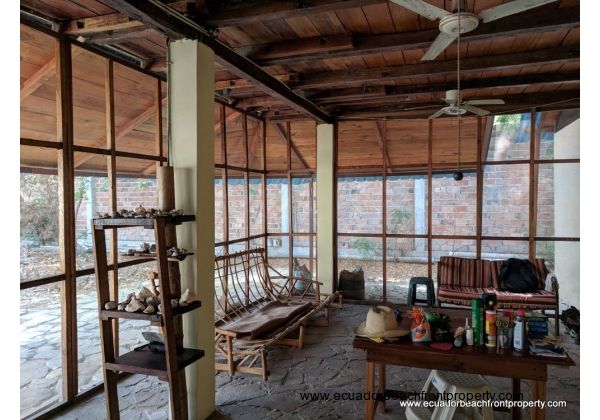 The porch leads to the spacious bedroom equipped with tile floors, an AC wall unit, and an attached full bath. The rustic furniture is made from bamboo and re-purposed doors and shutters. Next to the bedroom is a storage room with a washer and dryer.
Upstairs is a covered balcony ready for your daily "hammocking" practice.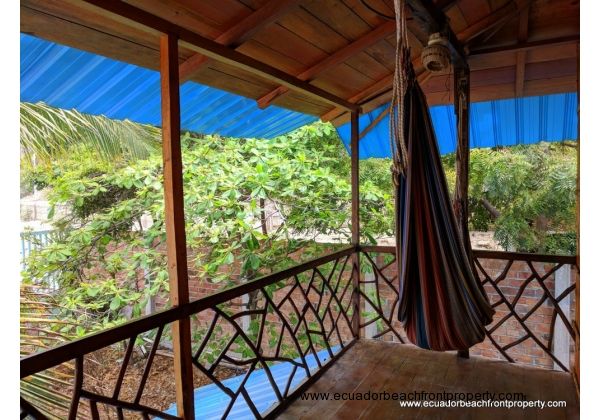 The upstairs interior features an open living area and kitchen with high hardwood ceilings. The upstairs stays cool with fresh ocean breezes that pass through the screened spaces and either end of the vaulted ceiling. 
Brand new aluminum windows are installed on windows the upstairs. Rustic furnishings are made from hardwoods, bamboo, and a shrub found locally and known as "moyuyo." The upstairs also has a second full bath and an office nook.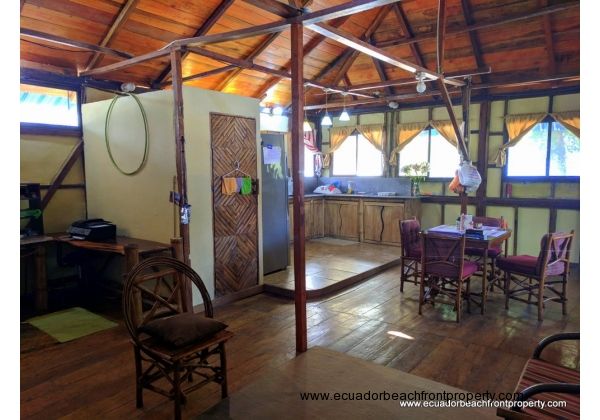 The ocean view kitchen comes equipped with a high volume refrigerator, 5-burner gas cooktop, gas oven, small appliances, and a walk-in pantry.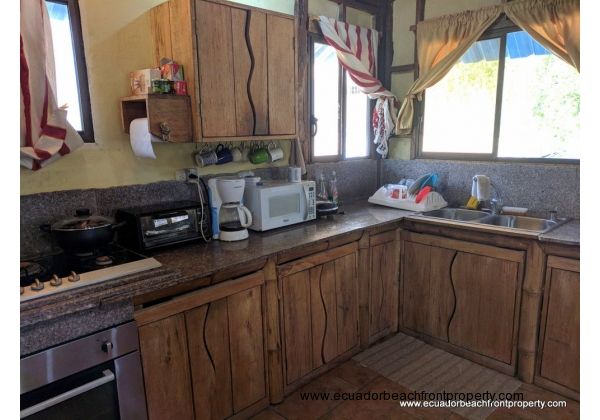 Summary of Features:
AC in the bedroom
Hot water plumbing throughout
Whole-house water filtration system
Large water cistern 
Raised water storage tank (good for maintaining water pressure during power outages)
Appliances (large volume refrigerator, 5 burner gas cooktop, electric oven, washer, gas dryer)
Brand new windows just installed on the upper floor
Mature fruit trees (mango, coconut palm, sour orange)
9-foot privacy wall with car entry
Less than one minute walk to the beach
Property taxes less than $50 per year
Check out the detailed property photos found in slideshow at the top of this listing.
Please get in touch with your questions!