This two story 2 bed/ 2 bath home with double balconies provides all the hammock and hangout space one could ever need. Its large coconut palms, ocean views, and classic thatch catch your eye. Located just steps from the beach, a stone's throw from local restaurants, and just a short walk to the town center make this a great location to take in the laid back coastal life in Ecuador.
This Classic Beach House is priced to include appliances and furnishings and is ready to move in. This home was originally renovated by an expat contractor and is currently owned and maintained by a construction savvy expat couple. 
The double roof, with metal roofing underneath and thatch on top, provides functional weatherproofing and cleanliness with the added protection from the sun.  The thatch is an amazing natural insulator and maintains comfortable temperatures inside the house even when the sun is out in full force.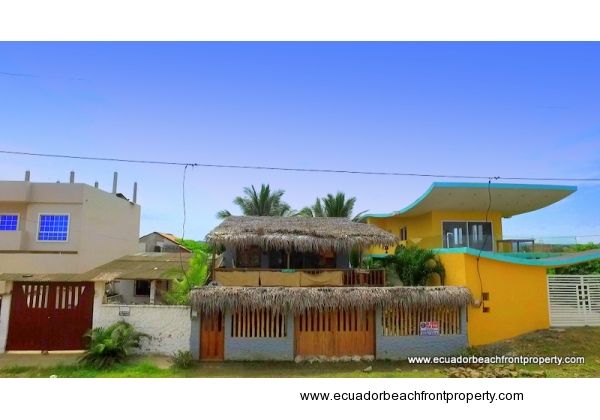 The property is fully enclosed on all sides and the yard offers ample outdoor space for your pet(s) to roam.
The downstairs is open and shady with plenty of room for storing beach toys, hammocks, and for covered parking.  A very large bathroom with driftwood cowboy swinging doors is perfect for rinsing off from the beach.  There is also a large enclosed storage area with room for bikes, fishing gear, tools, and more.  Two separate sets of stairs lead to balconies on the front and back of the home and are bordered by lush tropical flower gardens.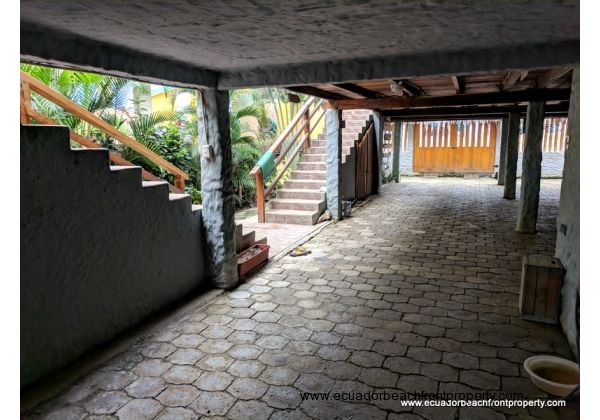 This home is located just across a small road from the wide, sandy beach.  Local fisherman and families have bamboo shade structures at the edge of the beach where they sort their nets, rest in their hammocks after their overnight fishing trips, and serve up local seafood dishes at small family-run restaurants.  A small wooden bar is built in to the front porch and is commonly regarded as one of the most frequented spots in this home.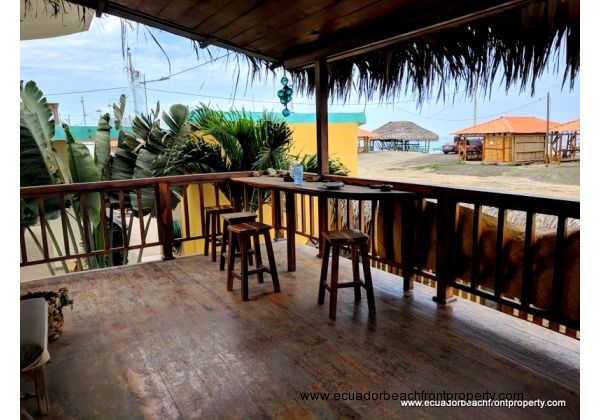 The spacious covered front porch provides views to the ocean while the kitchen and back porch look out onto the mature coconut palms that shade a rear-gated entrance onto the property.   Entering from the beachfront balcony there is an ample living room that leads through a hallway past two bedrooms to a large kitchen and bath area.  The kitchen feeds to the spacious back balcony.  Please see the slideshow at the top of the page.  We have included many photos so it can take a second to load.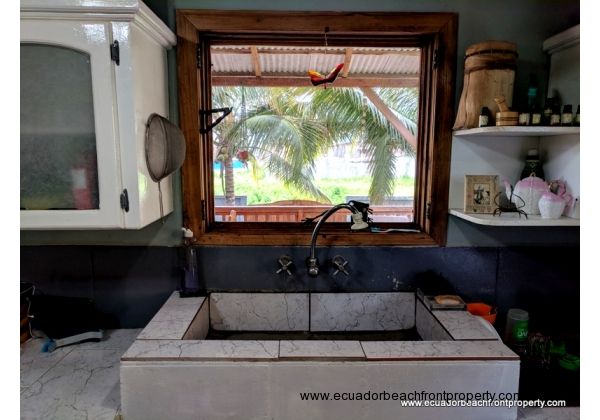 Extra water storage has been added, walls were recently repainted and the back deck was upgraded.  This home is turn-key for the laid-back person looking to find their escape to a mellow stretch of beach in a small fishing village on the Pacific Ocean. 
Please be sure to Contact Us with any questions you have regarding this home or the community and to schedule a showing.