Get Your Bearings
See maps and satellite images of this region and learn more about where we work.
Overview | Manta | Crucita | Portoviejo
The Boca | San Jacinto/San Alejo/San Clemente
Bahia de Caraquez | San Vicente | Canoa
Tom and Lynn Saunders currently focus on real estate along the stretch of coast between Manta and Canoa, located within the province of Manabi.
The region where we work is indicated by the orange rectangle (click image to enlarge it)
Prominent cities and towns in this region (click image to enlarge it)
Click here for driving times between cities (PDF)
Manta is a major city (pop. ~192,000) and an important port.
It is the only city with a daily flights along Ecuador's central and north coast. The airport currently only offers flights to/from Quito and is slated to one day (in the relatively near future) offer international flights.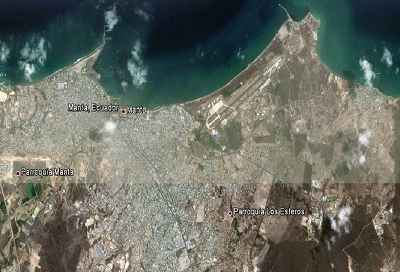 Explore in Google Earth (kmz file)
Driving distances (PDF)
Crucita is a small laid-back fishing and vacation town (pop. ~15,000). It is a popular site for paragliding and hang-gliding.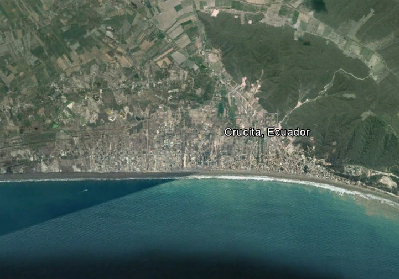 Explore in Google Earth (kmz file)
Portoviejo is not a tourist or retirement destination but we have it listed here because it is the capital of the province of Manabi, has major shopping, universities and hospitals.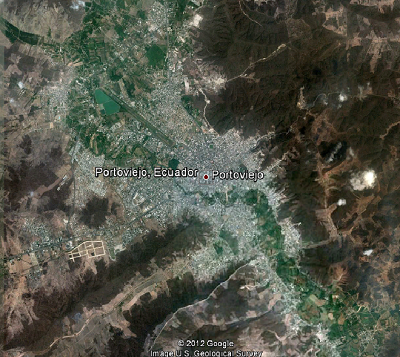 Explore in Google Earth (kmz file)
The Boca is the stretch of beach just south and north of the mouth of the Portoviejo River as it empties into the Pacific Ocean. Here the beaches are wide and sandy and the location is relatively remote. The south bank of the river mouth is part of the outskirts of Crucita and and northern bank is part of San Jacinto.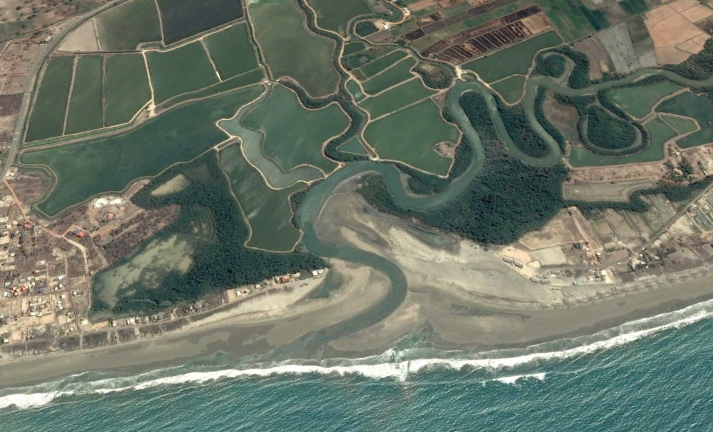 Explore in Google Earth (kmz file)
The three small fishing towns of San Jacinto, San Alejo and San Clemente blend into one another along sleepy beaches that come alive during weekends and holidays. Palmazul, an upscale resort in San Clemente and the accompanying condos have helped to attract foreign visitors and investors alike.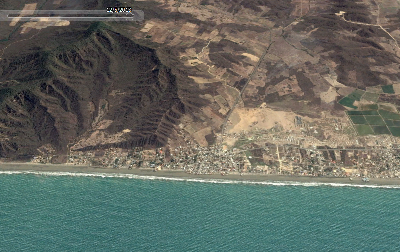 Explore in Google Earth (kmz file)
The city of Bahia de Caraquez (referred to simply as Bahia) sits on a peninsula between the Pacific Ocean and the estuarine bay formed by the mouth of the Rio Chone. Bahia is a small, vibrant city with a population of approximately 30,000.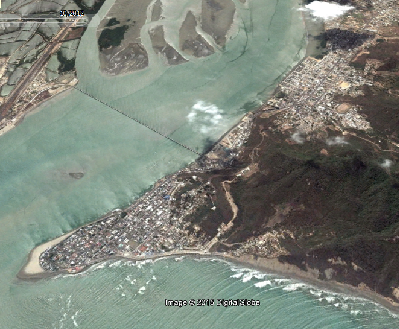 Explore in Google Earth (kmz file)
San Vicente is a small, yet bustling city that sits on the northern side of the bay, across the bridge from Bahia.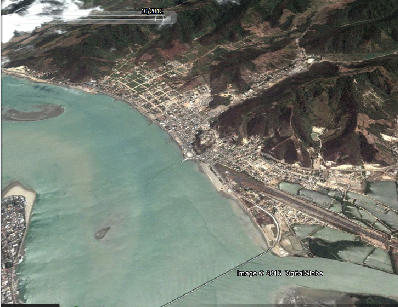 Explore in Google Earth (kmz file)
Canoa is fast becoming a top coastal destinations for both tourists and real estate investors in Ecuador. And it is not surprising due to its expansive sandy beaches, great surfing, and cliffs that create ideal conditions for paragliding.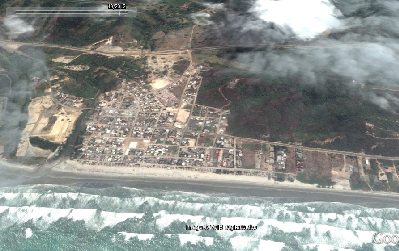 Explore in Google Earth (kmz file)