Garage description: Off street

House Construction: Brick and reinforced concrete

Floor area (Main Level): 1

Land Holding Type: fee simple (outright ownership of house plus land)

Lot Dimensions: 46 ft wide x 66 ft deep

A stunning beachfront AND riverfront B&B in a one-of-a-kind location. Voted "2017 Best Inn on the Coast of Ecuador" - 9.9 Satisfaction Rating on Booking.com.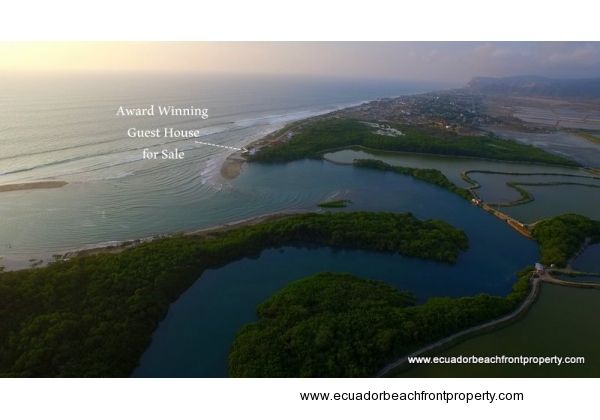 The US owners are willing to share business details of the B&B and consult with you for free for the first few months to assist you in the successful launch of the business. The innkeepers hosted travelers from several continents and numerous repeat visitors.
This renowned Bed & Breakfast was designed and operated as a private residence with two beachfront suites for guests on the ground level. The innkeeper's accommodations are located upstairs on the second and third floors and feature panoramic views of the ocean directly in front, a protected mangrove forest behind, and the river to the south as it flows into the warm Pacific ocean.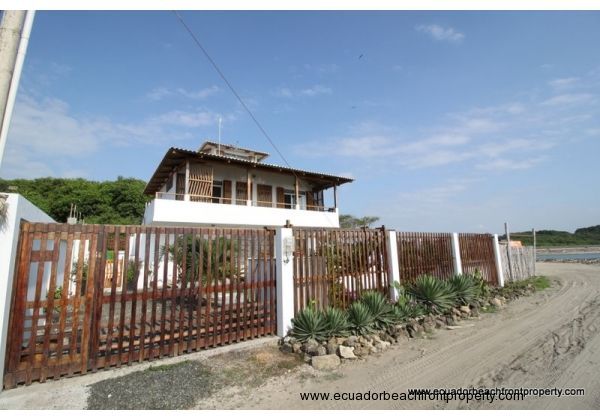 The property was built in 2014 with additions made in 2016 and 2017. It sits on a 46 ft wide x 66 ft deep lot (14m x 20m). It has a total of 4 bedrooms with 3 full baths with a total of 2,340 sq ft (217.5 sq m) of functional living space including the balconies and paved porches (1,383 sq ft enclosed, 128.5 sq m).
This beautiful property is located at the very end of the road at "La Boca," a stretch of wide sandy beach on the southern end of the fishing and tourist town of San Jacinto. This one-of-a-kind area is comprised of a single row of beachfront homes that back up to a protected mangrove reserve and ends at the mouth of a river as it flows into the ocean. This unique location offers diverse outdoor activities including kayaking, wind surfing, kite surfing, fishing, shell collecting, and bird watching. It is also a beach where sea turtles come to nest. While the area has a remote charm it is only a 15-20 minute walk into San Jacinto for small shops and restaurants. Also within close walking distance are small eateries serving fresh seafood.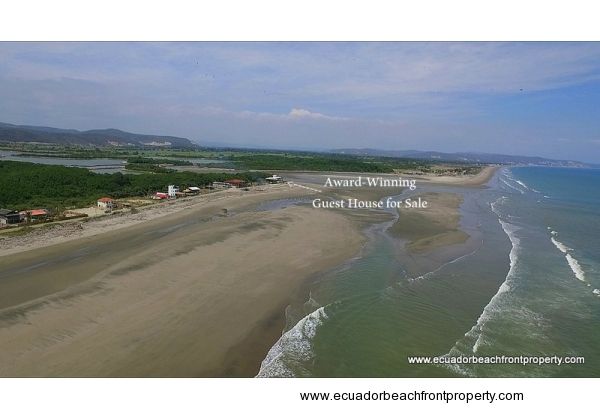 The property was designed specifically as a boutique guest house. It has two beautifully-equipped guest suites on the ground level of the property, each suite accommodating two people. They have tasteful decor, a comfortable queen bed, sofa (converts to a sofa bed), AC, flat screen TV with Direct TV, microwave, mini-fridge, and a potable water dispenser. The bathrooms are bright, spacious, and have a walk-in shower, hair dryer, and fluffy towels. The guest suites come fully equipped, ready to host your guests.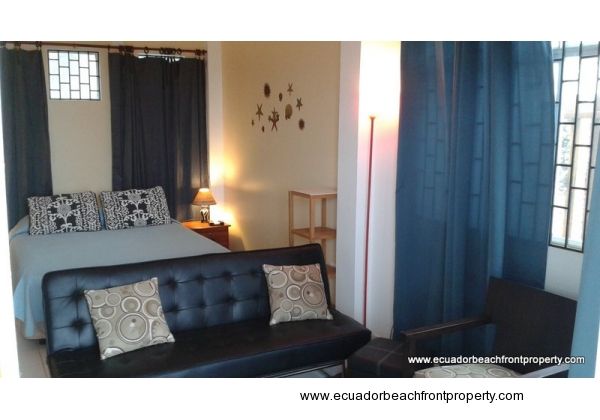 The second and third levels are used as a private residence for the innkeepers and come partly furnished (inventory available upon request).  The second level of the property features a wide, covered balcony with sweeping views. One set of sliding glass doors leads to the innkeepers' bedroom with full bath and spacious storage/laundry room. The second set of sliding doors brings you to the open living area and kitchen (see detailed photos in the slideshow at the top of the listing). 
The third level is accessed via a spiral staircase on the interior of the house. The 3rd floor features the rooftop terrace plus an additional enclosed space that was used as a 4th bedroom but could also serve or as a bonus room for entertaining, meditation/exercise room, etc. 
The yard features an oceanfront dipping pool with a wood deck, outdoor seating, outdoor shower, and a storage/workshop space in the back of the house. The property has its own transformer and back up generator. It also comes with two kayaks for paddling the river or the ocean.
Be sure to scroll through the detailed photos at the top of this listing. We look forward to hearing from you to schedule a showing and to answer your questions regarding this unique beachfront business and lifestyle opportunity.