---SOLD--- An exciting opportunity to purchase a newly constructed, custom home on the beach. This home has 2 bedrooms, 3.5 baths and a covered rooftop terrace with stunning ocean, river, and forest views. It comes fully equipped down to the cookware and linens. Perfect for year-round living or as a vacation investment.


---SALE PENDING---

This custom 2 bedroom/3.5 bath beachfront home was built in July 2017. It comes fully "turn key" and includes all appliances and furnishings (view the list of what's included towards the bottom of this listing).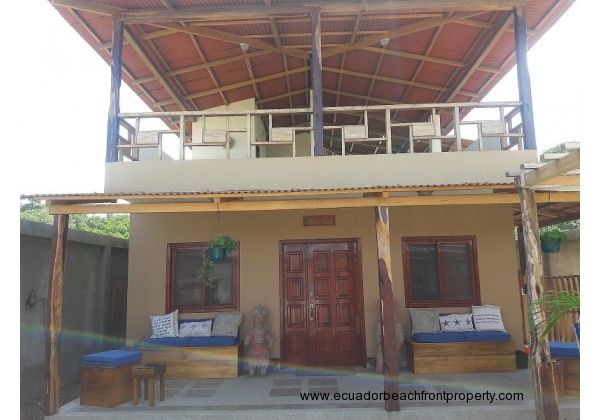 This home is located at "La Boca," a stretch of wide sandy beach on the southern end of the fishing and tourist town of San Jacinto. This beautiful area is comprised of a single row of beachfront homes that back up to a protected mangrove reserve and ends at the mouth of a river as it empties into the ocean. This unique location offers diverse outdoor activities including kayaking, wind surfing, kite surfing, fishing, shell collecting, and bird watching. While the area has a remote charm it is only a 15-20 minute walk into downtown San Jacinto for small shops and restaurants. Also within close walking distance are small eateries serving fresh seafood.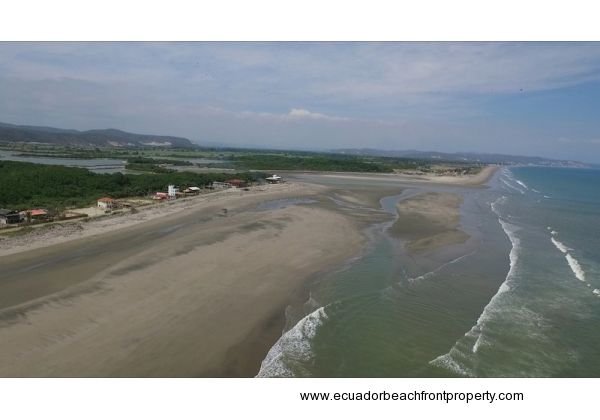 The home sits on a lot measuring 33 ft wide x 82 feet deep (10 m x 25 m) and is surrounded by a privacy wall with custom shutters on the front to allow the inflow of fresh ocean breezes. As you enter the property you are greeted with an easy-to-maintain garden space that includes a pergola set up as a relaxing spot for "hammocking." This area is shaded by weather resistant Sun Sail shades and can double as a carport. Behind the house is a 10 ft x 11 ft storage shed.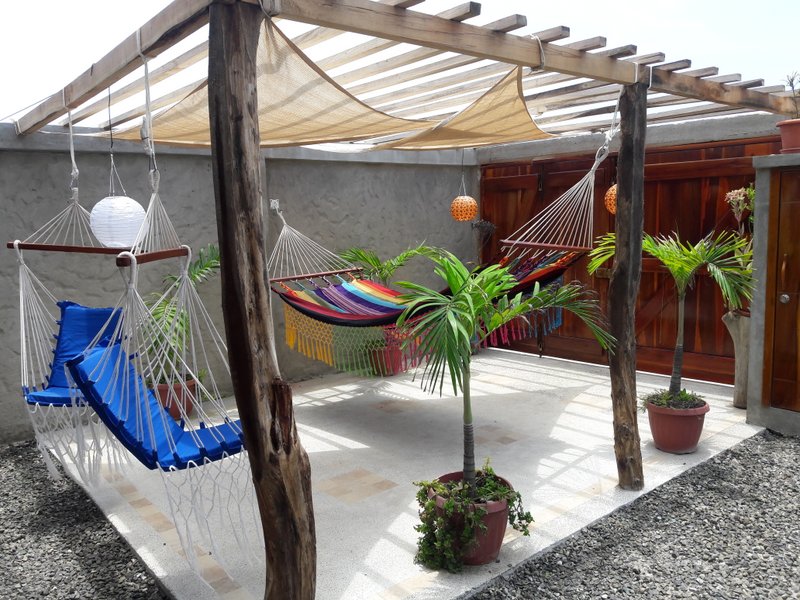 The front entrance into the home has a spacious covered porch with custom furnishings and large terracotta replicas of pre-Incan era statues. The ground level of the home features the living room, kitchen, master ensuite, second bedroom, guest bath, and laundry room with a stacked washer and dryer. This home was designed to contain the primary living quarters on a single level so the use of stairs wouldn't be required, should that ever become a concern. The living room and both bedrooms are equipped with AC.
Upstairs is a spacious, shaded terrace with spectacular panoramic views: the Pacific ocean in front, the mouth of the river towards the south, and the forested mangrove reserve teeming with nesting birds to the east. The terrace also features a second kitchen, 3rd full bath, plus a urinal room with swinging saloon doors. This 2nd level is a well-equipped, outdoor living space made for folks who enjoy entertaining! And what better place to enjoy the end of each of your days with a front row view of the sunset.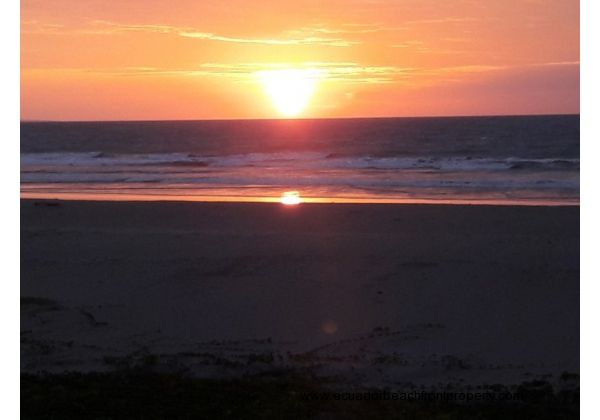 Summary of areas:
Lot dimensions: 33 ft wide by 82 ft deep (10 m x 25 m)
Ground level area 968 sq ft, includes 168 sq ft covered porch
Second level area 988 sq ft, includes covered terrace, full bathroom, urinal room, and kitchen
Pergola/carport 204 sq ft
Storage shed 110 sq ft 
*Detailed photos on the photo slider at the top of this page.
Excellent opportunity for an affordable, move-in ready beachfront home. We look forward to hearing from you with any questions and/or to schedule a viewing.