MOTIVATED SELLER-PRICE REDUCED!! This unique 2,390 sq ft home sits on 3 spacious lots offering many possibilities. Located a short 4-minute walk from the beaches of Crucita. This home is FULLY FURNISHED and MOVE IN READY!   It has 2 bedrooms and 2 ½ baths with full living quarters upstairs and a downstairs great room, with a total of 2,390 sq feet of living space, plus a wraparound balcony.
The main living quarters is located upstairs.  It is an open living space (1,175 Sq. feet) with beautiful Solid Mahogany wood floors (Caoba in Spanish).  This wood can no longer be purchased, making these beautiful floors a rare find. The living room is furnished with a 5-piece sofa w/ built-in recliners, Entertainment center with 46" Bravia TV and DVD Player and a beautiful metal 5-piece world map art piece framed in bamboo.  There is a Comfort Star split A/C unit.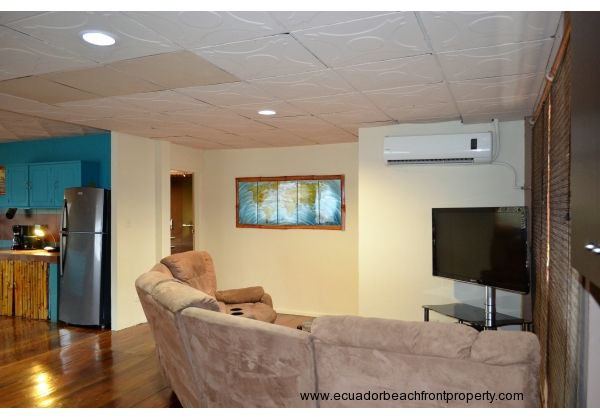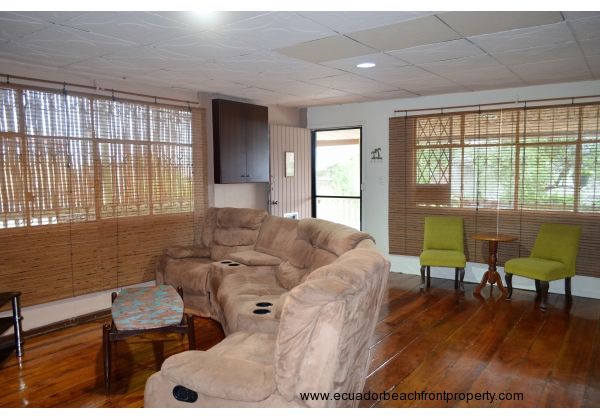 A door leads to the wrap around covered balcony. A great place to enjoy your morning coffee or evening  toddy and glimpse a view of the sunset.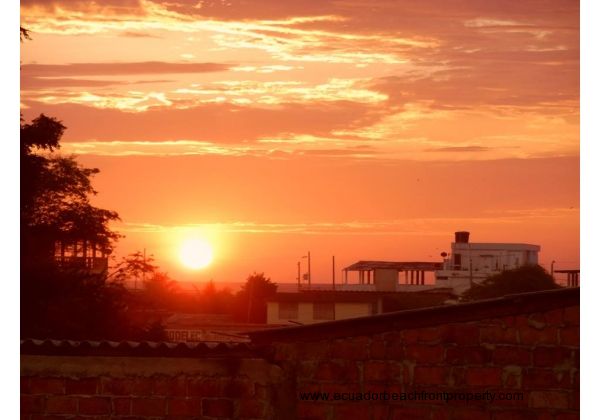 The kitchen has plenty of workspace.  There is a stainless steel refrigerator (6 months old, still under warranty), stainless steel 5 burner propane stove with oven & rotisserie.
Small appliances include a blender, microwave oven, small food processor/chopper and salad shooter.  Also included are plates, glasses, silverware, cooking utensils, pots and pans, Wok, serving dishes and even more.
The dining area has an oblong dining table & 6 matching chairs, a Floor lamp and a custom wall clock.
At the entry door there is a Honeywell Vista-20 security system keypad. 
In the office nook, there is a CNT landline phone, modem and router.  This home has been completely re-wired and upgraded with CAT-7 Hardwire to the office, living room, master bedroom, and downstairs TV area for reliable internet service, receiving 5 gig Download and .8 Upload.  The office nook is complete with a large Computer desk with Ergonomic Chair and a 32" LG TV.  All TV's have been pre-wired with HDMI cables and are ready for connection to all your devices.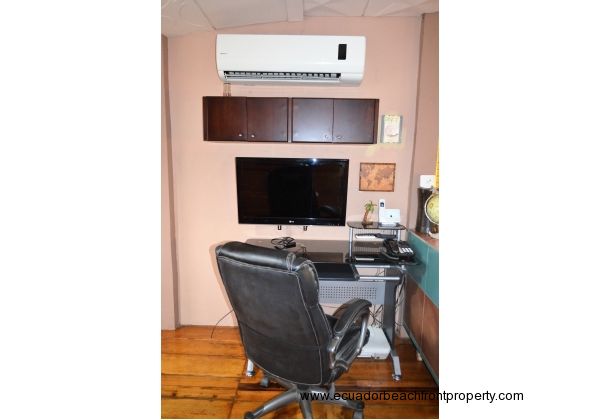 The master bedroom is furnished with a King Bed with custom headboard & pillow top mattress (bedding included), a large wardrobe, 5-drawer dresser, 2 nightstands & a table lamp, and a split Unit A/C.
 An ensuite bath with tile floors completes the master bedroom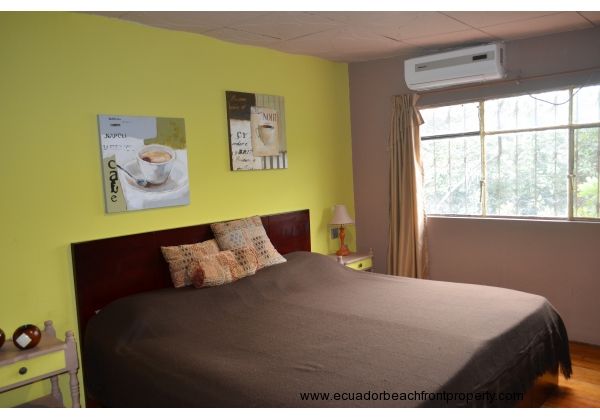 The guest bedroom has a full-size bed, a bedside table and lamp, storage shelf with cover and a computer desk with chair.  It also has an ensuite bath with tile floors. This room is wired with 220V for easy installation of an A/C unit.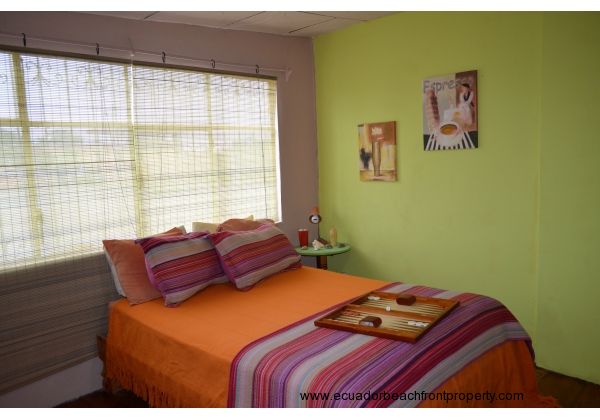 Downstairs is the spacious screened-in Great Room ready for entertaining or relaxing. There is 1,215 sq. feet of living space complete with a second kitchen area, guest bath, and laundry room.
The floors are tiled throughout and newly purchased furnishings include an L-shaped 2-piece sectional sofa with chaise and throw pillows , small TV table (TV NOT included), 1 large outdoor reclining chair, and an ottoman/storage box.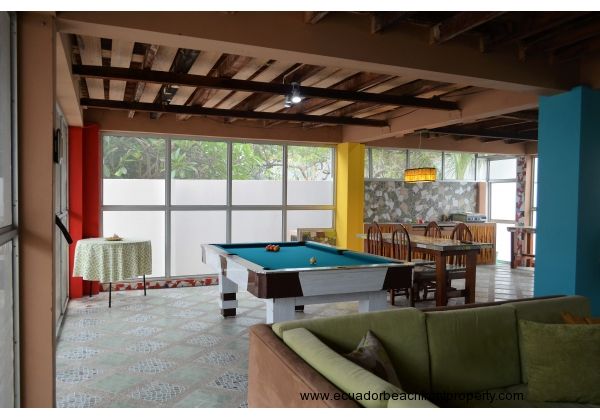 Play a friendly game of pool on the 7-foot Pool Table complete with new felt, 18-piece Ivory ball set with queue ball, wooden 8 and 9 ball racks, and 5 queue sticks. Or play darts with the Championship Shot King Dartboard in wooden cabinet with new darts.
For lazy afternoons enjoy the Queen size bed complete with bedding, or camp out at night in luxury, bug free and comfortable with a great breeze, and wake up to the gentle sounds of the neighborhood parakeets chirping and a beautiful view of the fruit grove. Above the bed a new 52" ceiling fan has also been installed.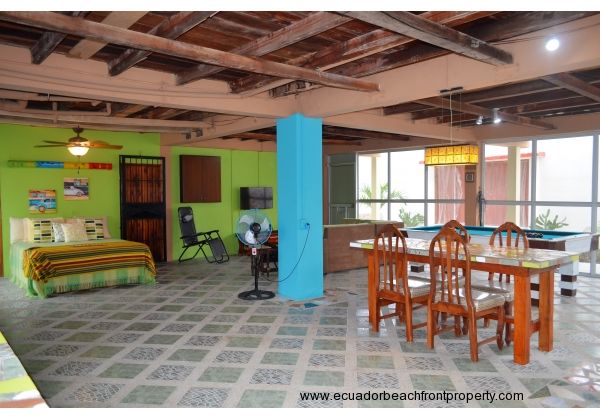 A sliding glass door leads to the back yard where the outside shower is located and a clothes line in case you choose to hang your clothes in the ocean breeze.
The downstairs kitchen area makes entertaining easy! The custom mosaic prep table has a 4-burner propane cook top, custom built 44"x23" charcoal grill, kitchen sink.  There is another prep table with a toaster oven. There is custom mosaic dining table and a hanging lamp. An Electrolux 5-gallon water cooler with hot and cold water complete the kitchen.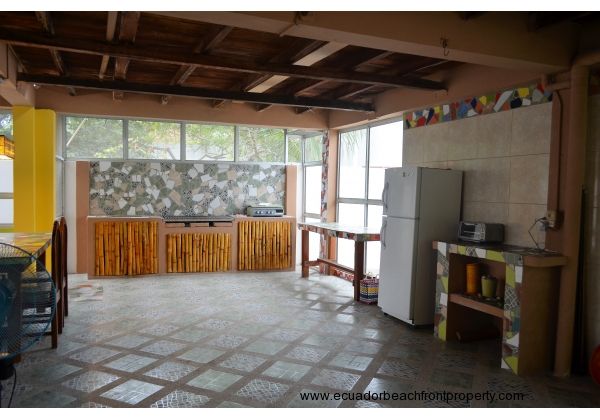 The laundry room has a Whirlpool High Capacity Washer, Whirlpool Propane Gas Dryer and a 20 Liter Propane Gas on-demand hot water heater.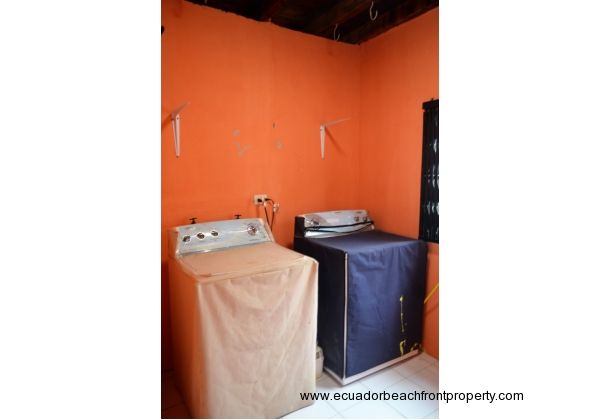 On the outside front patio, there is lighting and a custom propane gas grill.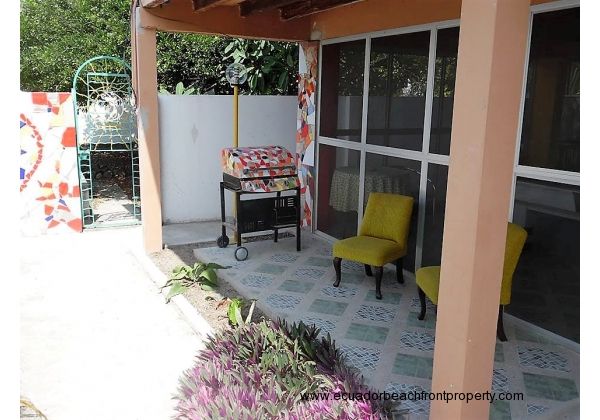 The 3 lots consist of the center lot (2,576 sq ft) where the home is located, giving you plenty of privacy from the neighbors.
The East lot aka the Grove/Orchard lot has 1,904 sq ft.  This lot is planted with producing trees of Guyaba, Mandarina, Mango, Yellow Plum, Ciruelas Amarillas, 2 Coconut Palms and the largest sweetest smelling, beautiful pink and yellow Plumeria tree (the flower Polynesian Lei's are made of).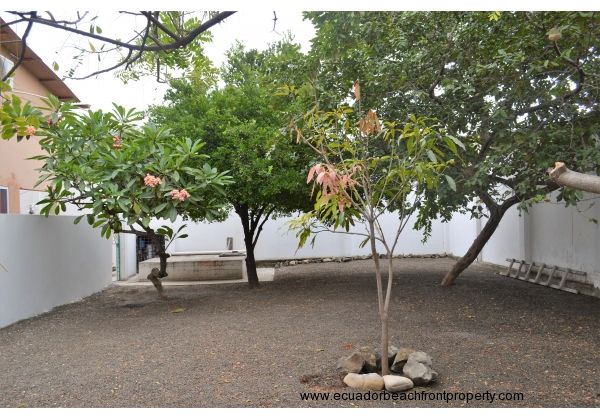 The 1,436 gallon cistern is located on the Grove/Orchard.  The water pump and whole house filtration system are located next to the cistern.
Both the house lot and grove/orchard lot are fenced with a 10 1/2-foot block wall fence that has recently been painted.  These 2 lots are separated by a custom ironwork gate of the sun and moon.  The moon raises up for a doggie gate.
The West lot also has 1,904 sq feet of space and is ready for a garden, swimming pool, mother-in-laws quarters or anything you may want.  This lot is fenced on 2 sides with 10 1/2-foot block wall fence and 2 sides are of bamboo, the front side having a double bamboo gate for easy drive in access.  A walk thru gate from the house lot to this lot could easily be installed. If you choose to have a vehicle, parking could easily be added to this lot.
The location of this home is a quiet neighborhood with only a few neighbors.  It is just a 4-minute walk to the beach and a 1 minute walk to the bus route. This home is pet friendly being fenced and has a pet door into the great room.
Other items included with the purchase of the home include
                -various artwork in each room
                -2 hammocks
                -1 oscillating fans
                -assorted gardening and cleaning tools
                -9-foot wooden ladder
                -4 propane tanks
                -outdoor trash cans with lids
                -potted plants
                -towels, blankets, bedding linens
               -6 bug zappers
 For a complete list, please email me with your request.
Crucita is a small fishing village located popular with expats. It is conveniently located just 40 minutes north of the airport in Manta and 30 minutes from the city of Portoviejo.  It has a malecon (road next to the beach) that has great restaurants with fresh seafood.  Enjoy watching the fishermen bring in their daily catch, and buy your fish and shrimp fresh to bring home and cook on the BBQ. Take leisurely beach strolls as you shell. During July, August and September you can catch a glimpse of the Humpback Whales on their annual migration.  This beach has great shoreline and often there are sea turtles nesting. There are plenty of birds for bird watching and dolphins playing near shore.
So what are you waiting for??  Pack your clothes and come on down.  Make this your Casa De Sol Y Suenos, Home of Sun & Dreams!