Turn-Key fully furnished 3 Bed, 2 1/2 Bath beachfront home that will make a wonderful retirement residence or beachfront vacation home.
Pride of ownership and attention to detail position this as one of the nicest homes on the market in its price and size range.  The quality build, detailed landscaping, and completely up-to-date maintenance on this property since its construction in 2011 make this an attractive turn-key beachfront home for a buyer looking for quality.  Given its location and price at only $289,000 including all furnishings, we expect this home to find a new owner very soon.
This home has two principal facades, one facing the entry gate, protected bike lane, and 4 lane-concrete coastal road that provides easy access to the home seen below...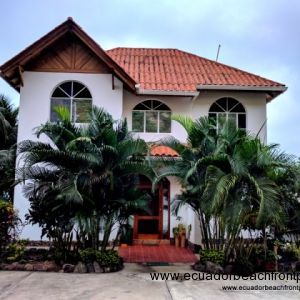 and the second facade facing the beach with a shaded balcony and downstairs porch that provide beach views from two of the three bedrooms, both living rooms (Yes, there are an upstairs and downstairs living areas), and from the Great Room upstairs.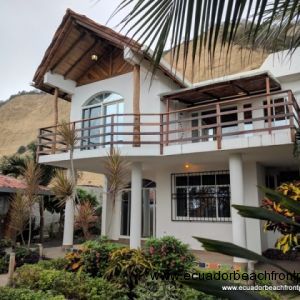 There is also an large covered kitchen/dining/hammocking space on the beach side that provides a great outdoor hub with just a few steps down into the sand.  There is also an outdoor shower and rinse area for coming off the beach and transitioning back into the home.  This home is great for family get-togethers, entertaining, or just having space to relax with some reading material.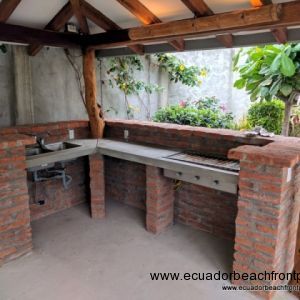 The second bedroom has views onto the gardens and the beach and includes custom built wooden cabinets and storage.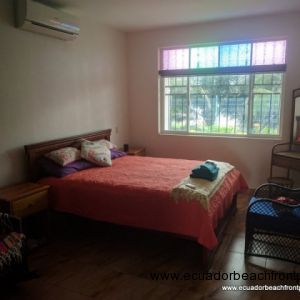 The upstairs kitchen/dining/living combines into a Great Room and features high ceilings finished with exposed beams and wooden rafters.  There is a warm and cozy feeling in the this main living area yet plenty of space as the living room opens onto the balcony and views of the ocean and palm trees.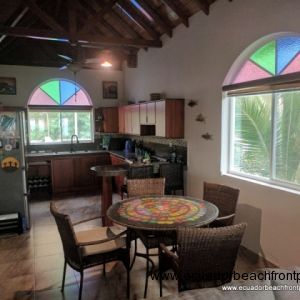 The master bedroom also has exposed and finished high ceilings with custom wood cabinets, ocean views, and its own access to a shaded beachfront balcony.
This home comes complete with high-end finishings including granite counter-tops, custom wood cupboards, double stainless steels sinks, designer water fixtures, stainless steel custom gas outdoor grill, stained glass, custom hardwood stairs, quality light and fan fixtures, and too many design details to list.
This property also provides all the expected comforts including an electric on-demand hot water system, AC units in all of the bedrooms, Wifi internet, two covered and secure garage spaces plus a large storage and laundry room (with washer and dryer), a gas stove for cooking, a large water storage cistern, security walls and gate, sediment water filter, and quality mattresses and furnishings.
Make sure to scroll down and don´t miss drone flyover and walk-through video tour of this property.  Also, there are over 50 photos above the description that help to communicate just how amazing this property is.
Please Contact Us with any questions or to schedule a showing.